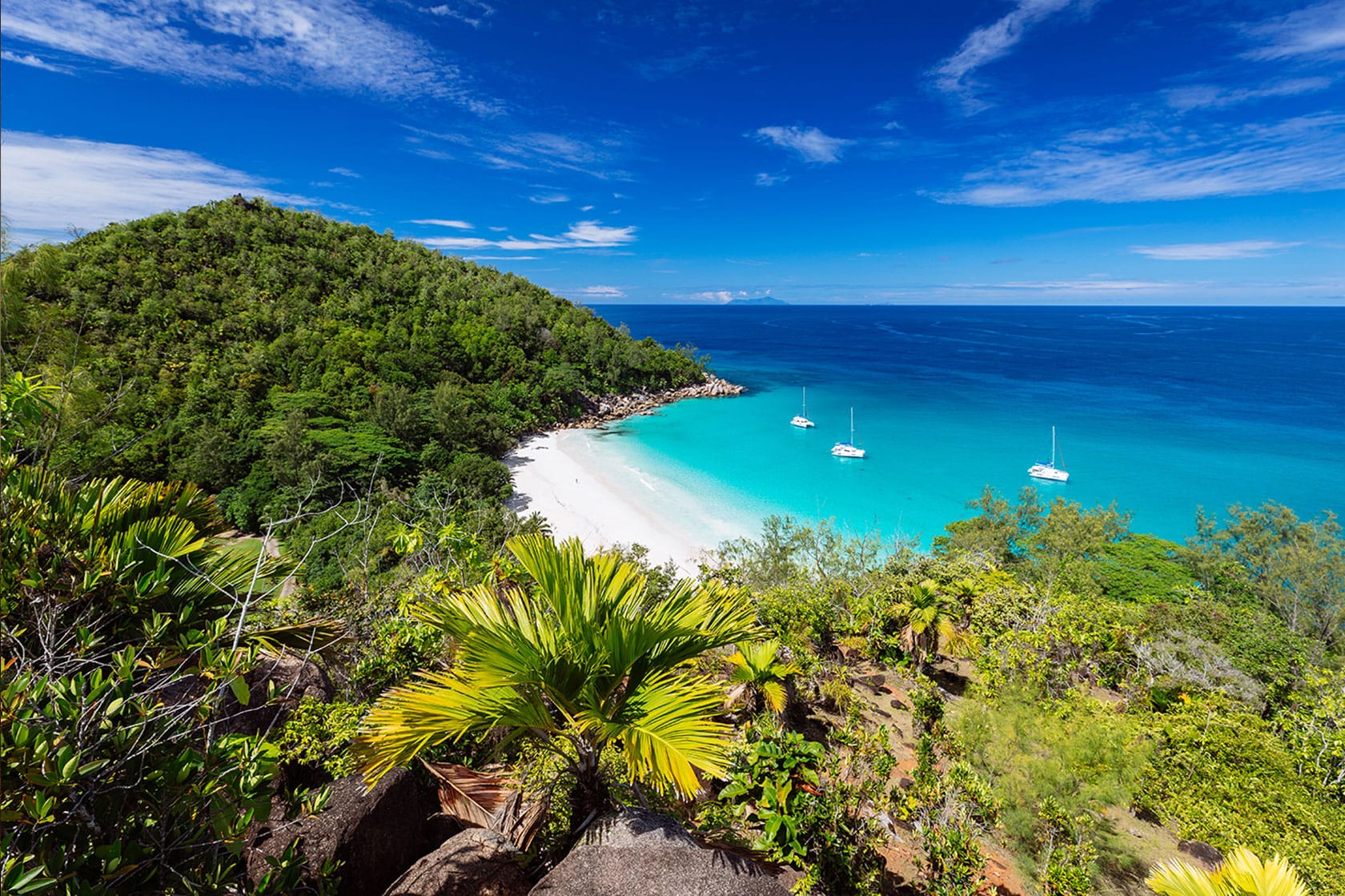 For many visitors the Anse Lazio the most beautiful beach of the island Praslin. yes, the Anse Lazio is beautiful - but from 10 a.m. at the latest until late afternoon it is so well visited that one rather feels like being at the Playa de Palma than in the Seychelles.
Only a few hundred metres away as the crow flies is the beautiful Anse Georgette. Allerdings gibt es keine Straße, die man von der Anse Lazio aus einfach nehmen könnte. Man muss entweder den (wunderschönen, aber anstrengenden und nicht ganz ungefährlichen) Fußweg von der Anse Lazio zur Anse Georgette gehen und benötigt hierfür – je nach Fitness – etwa 60 bis 120 Minuten. Erst vor wenigen Jahren ist ein Tourist auf dieser Wanderung verschwunden und nie wieder aufgetaucht. Es ist also alles andere als ein "einfacher Spaziergang".
The second possibility is the access via the grounds of the beautiful luxury hotel "Constance Lemuria"But here, one has to register several days in advance for the desired date of visit and then one can only hope that there are not too many other tourists registered for the same day. the access is only allowed to a few visitors per day. if one registers too late, one can have bad luck and will not be put on the visitor list.
If you still want to go to Anse Georgette on the date you want, the path described above is reserved for fit adults who dare to go off the beaten track and are rewarded with a phenomenal view just before the end of the walk (see photo)!
Also for especially unusual wedding pictures this is one of my absolute favourite spots in the whole Seychelles! Da ich seit meinem ersten Aufenthalt dort im Constance Lemuria "per Du" mit dem Hoteldirektor bin, müssen "meine" Hochzeitspaare und ich glücklicherweise nicht den zeitraubenden Fußweg wählen, sondern werden mit einem der hoteleigenen Fahrzeuge an der Hotelrezeption abgeholt und bis fast an den legendären Fotospot gebracht. Das Leben kann so einfach sein… 🙂