Franzi und Sascha sind das allererste Paar, dem ich nach seiner Hochzeit auf den Seychellen ein paar Fragen per Mail gesendet habe mit der Bitte, diese bei Gelegenheit zu beantworten. Da die Antworten sicherlich auch für Paare, die ihre Hochzeit auf den Seychellen planen, interessant sind, möchte ich Euch die Fragen und Antworten nicht vorenthalten! Los geht´s! 🙂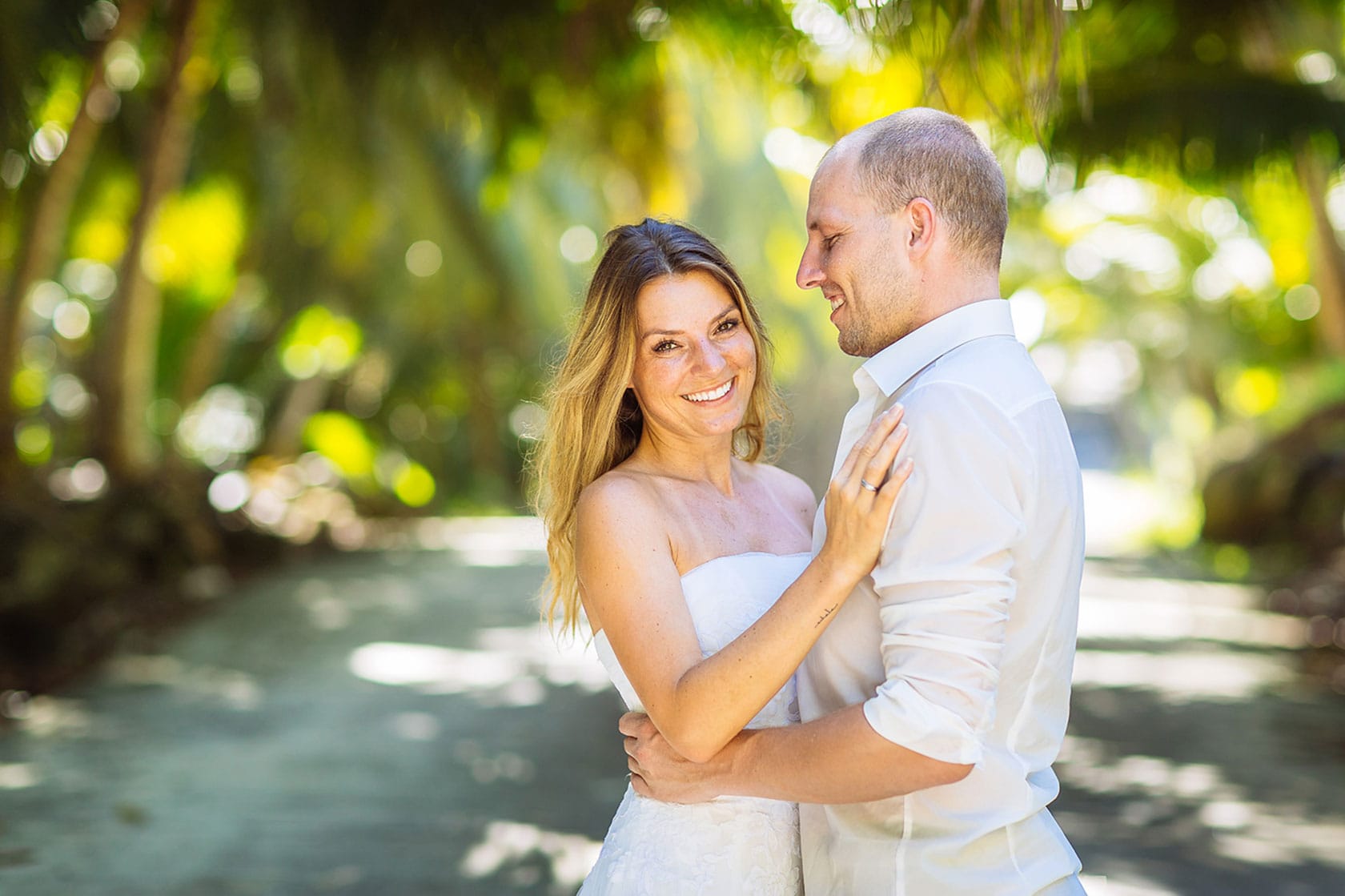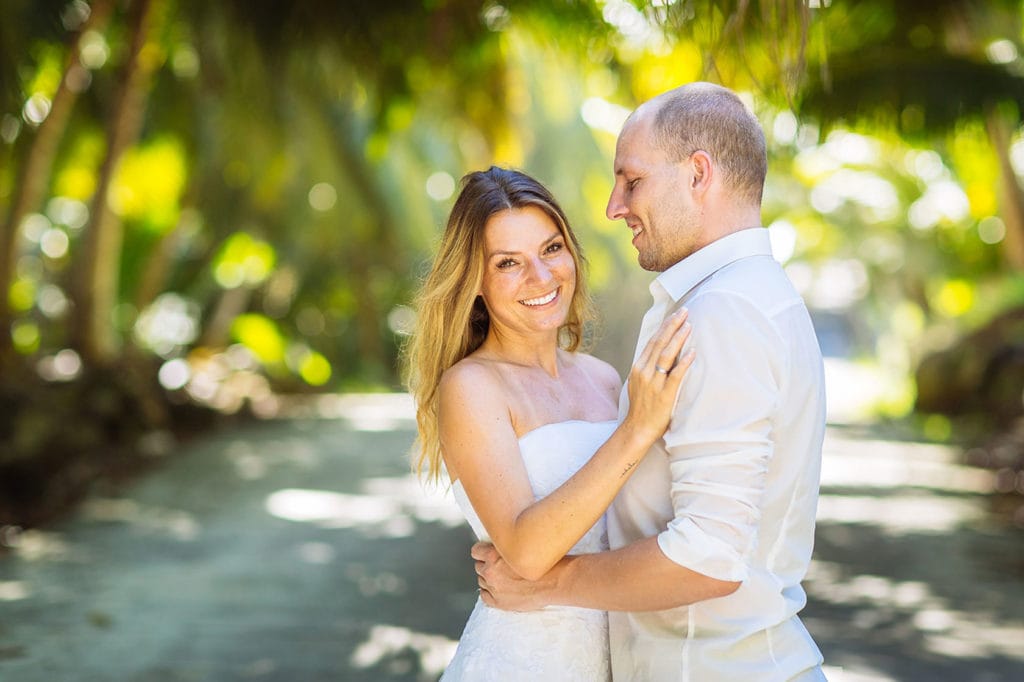 Warum habt Ihr auf den Seychellen geheiratet und nicht in der deutschen Heimat?
we wanted to say yes to a very special place in private without hustle and bustle. while searching for this special place, we became aware of several possibilities. especially the seychelles caught our attention through the photos of Torsten. the panorama and the very nice first contact with Torsten, who could take away a lot of doubts, contributed a lot to our decision to go to the seychelles. furthermore, we learned through him that a wedding on the seychelles is easily recognized in germany, which gave us the final impulse to get married there. the costs were also lower than we expected. if we had gotten married at home, we probably would have spent even more, but we would not have been able to collect such nice impressions and memories.
Now you are married, how did you like your wedding? how was the wedding ceremony and what did you do after the ceremony? in short, what was your wedding day like?
Unsere Hochzeit war schöner, als wir uns es je vorgestellt haben! Nachdem wir uns getrennt voneinander hübsch gemacht haben, hat Torsten unser erstes Aufeinandertreffen im Hochzeitsdress arrangiert, sodass wir beide ein wunderschönes Überraschungserlebnis hatten, bevor es zur Grand Anse, dem von uns ausgewählten Strand unserer Trauung, ging.
Our wedding planner picked us up from our accommodation and we were taken to our destination, where we were congratulated and cheered by many locals along the way.
on the beach everything was already prepared: the decoration was arranged as we wished. the registrar and a musician welcomed us friendly and we could start. Torsten started immediately and took the first pictures. luckily he had his family with him, so that we even had a very sweet flower girl with his four-year-old daughter, who decorated our way to the "wedding table" with flowers, accompanied by music by the guitarist.
The wedding ceremony was held in easy to understand English with many beautiful pictures and moments. After the ceremony we toasted to our new luck with the bottle of champagne brought by the wedding planner. During the whole time Torsten has already taken many pictures, of which we hardly noticed anything.
Afterwards we started with our photo shooting. After Torsten had taken some pictures on our beach of the wedding ceremony, we dressed up in comfortable clothes and made our way to Anse Cocos. We climbed with bag and baggage through the jungle and over smaller rocks. That alone was worth an experience.
when we arrived at Anse Cocos, our photographer took us up an impressive granite rock. when we arrived at the top, we threw ourselves back into our wedding outfit while Torsten waited downstairs. there we could take more beautiful pictures and also bring in our ideas. unfortunately, after a while it started to rain and we had to stop the shooting. however, happy and blessed by the rain, we made our way back.
In the evening, our wedding planner arranged a barbecue for us right on the beach, where we enjoyed a great meal with local specialties with a view of the sunset together with Torsten and his family.
War es kompliziert, auf den Seychellen zu heiraten? Welche Dokumente wurden benötigt? Gab es "Papierkrieg"?
Through our wedding planner, who was recommended by Torsten, it was very uncomplicated to get married in the Seychelles. We sent our passports and international birth certificates to him in advance by e-mail and he took care of everything else. We took the originals with us as a precaution, but they were not needed on site anymore.
Since a wedding in the Seychelles is also recognized here in Germany (as long as the apostille is on the wedding certificate), the registration at the registry office in Germany was also unproblematic and quickly done.
On my recommendation, the best wedding planner in the Seychelles took over the organisation of your wedding, did everything work out as you imagined it?
the communication with him was in english via email even before the start of the journey. we were able to tell him all wishes in advance, and he was able to make changes at short notice (2 days before the wedding ceremony) without any problems. he met and even exceeded all our expectations!
why did you decide to have me photograph your wedding? how did you find me? when and where did you first come across my wedding pictures from the seychelles?
it was clear to us relatively quickly that we would like to get married not in our home country but somewhere else. while searching for the perfect place, we came across Torsten's website via YouTube. after first contacting him by mail, we already got a very positive impression of Torsten. shortly after that we met personally in his office to get to know each other better. the chemistry was right from the beginning and after the conversation we knew that Torsten should be our photographer. because of his warm and funny nature he had won us over very quickly.
meanwhile you got your photos from me. you had booked me for three days, but we took pictures on four days, if i'm not mistaken. how did this happen, do you remember it in detail? and the most important question: do you like the pictures?
First to the most important question: We LOVE the pictures! Torsten knows how to capture every moment in such a way that you get goose bumps again when you look at the pictures. All our friends and relatives were also blown away by the pictures!
Warum wir vier Tage mit Torsten verbringen durften, statt nur drei? Weil wir uns nicht von Torsten trennen wollten und umgekehrt 🙂 Spaß beiseite – Leider hatten wir während unserer gebuchten drei Tage viel Pech mit dem Wetter. Unüblicherweise hat es Ende April viel geregnet, sodass es nicht möglich war, ganztägig schöne Fotos zu machen.
During the booked three days we were able to visit some spots and take pictures, but not to our satisfaction and certainly not Torsten's. Torsten was really only satisfied when we were completely satisfied too.
since torsten combined our shooting with a holiday with his family, he had planned more time anyway than would have been necessary for our wedding pictures. unfortunately we left the island of la digue earlier than he did and we spent a few more days on the main island of Mahe. however, shortly after us, torsten also came to Mahe and offered us, since we were so unlucky with the weather, to spend another day with a rental car to drive many spots on Mahe and to do another all-day free shooting. there, so many beautiful photos were taken that we got a huge repertoire of pictures after all. thanks again for that!
Which photo spots did you particularly like?
It's hard to say, because the Seychelles are simply a dream setting and there are just so many and beautiful corners there!
Were there any experiences/places/situations during our photo days that you especially like to remember?
The wedding ceremony itself was a wonderful experience, but on Mahe we also had a really great experience with goose bumps:
We wanted to take pictures on a main road in front of an old building, but we were afraid that this would hardly be possible due to the traffic, so when we got into position and Torsten stood on the other side of the road to get going and wait for the moment when he could take pictures between the cars, the locals blocked the road with their cars and gave a horn concert with cheers in our honour.
Here is one of the most beautiful pictures we took, probably due to the situation, but anyway, this picture is now hanging in XXXXXL format in our living room in Düsseldorf and reminds us every day of our fantastic time on the Seychelles!
you got married on my favourite island La Digue. which accommodation did you choose and how did you like it there? can you recommend the accommodation without any restrictions?
during our stay at la digue we stayed at "domaine les rochers". the whole area and our apartment was very nicely decorated. our host provided us with small gifts like fresh fruits, a personal introduction to the island of la digue and delicious coconut water. he also arranged bicycles for us and gave us further tips about the island. here is a very clear recommendation!
Which other Seychelles islands have you visited besides La Digue and where did you like it best?
Besides La Digue, we were also on Mahe and made a day trip to Big Sister Island. La Digue was our clear favourite, as you are a tourist without cars here, the people were all very friendly and you could be for yourself on the beaches. It was not really crowded anywhere on La Digue.
Mahe, on the other hand, is, at least where we were (Beau Vallon), already a little fuller. but there is still something to do there in the evenings - if you want to - especially at the weekend. many locals go to the beach and a market with music and many national specialities invites you to stay.
Big Sister Island Is a very small island without infrastructure off the coast of La Digue, which has a beautiful beach, definitely worth a trip!
Will you visit the Seychelles again? if so, what would you do differently from your previous trip? and what would you do again, if necessary?
Wir würden und werden definitiv nochmal auf die Seychellen kommen! Was wir anders machen?! Gerne würden wir mehr mit den Einheimischen in Kontakt kommen und einfach die ruhige Art und Gelassenheit der Seychellois abfärben lassen 😉
What would you like to give to couples who are planning to get married in the Seychelles in the near or distant future, and are there any recommendations you would like to get rid of?
don't worry so much! we were going crazy in our heads and everything worked out even better than we could have imagined. photographer and wedding planner are a great team and make (almost) everything possible. you can't influence the weather, but even when it rains the islands are a dream come true!
And now the final question: Why should couples who want to get married in the Seychelles in the near or distant future use my services?
Torsten – ernsthaft?? Diese Frage?! Hmm… Na gut! 😉 Ihr solltet Ihn einfach kennenlernen! Er ist einfach der BESTE! Die Bilder sprechen für sich bzw. für ihn. Wer ein Rundum-Sorglos-Paket möchte, ist bei Torsten genau richtig. DANKE für ALLES!