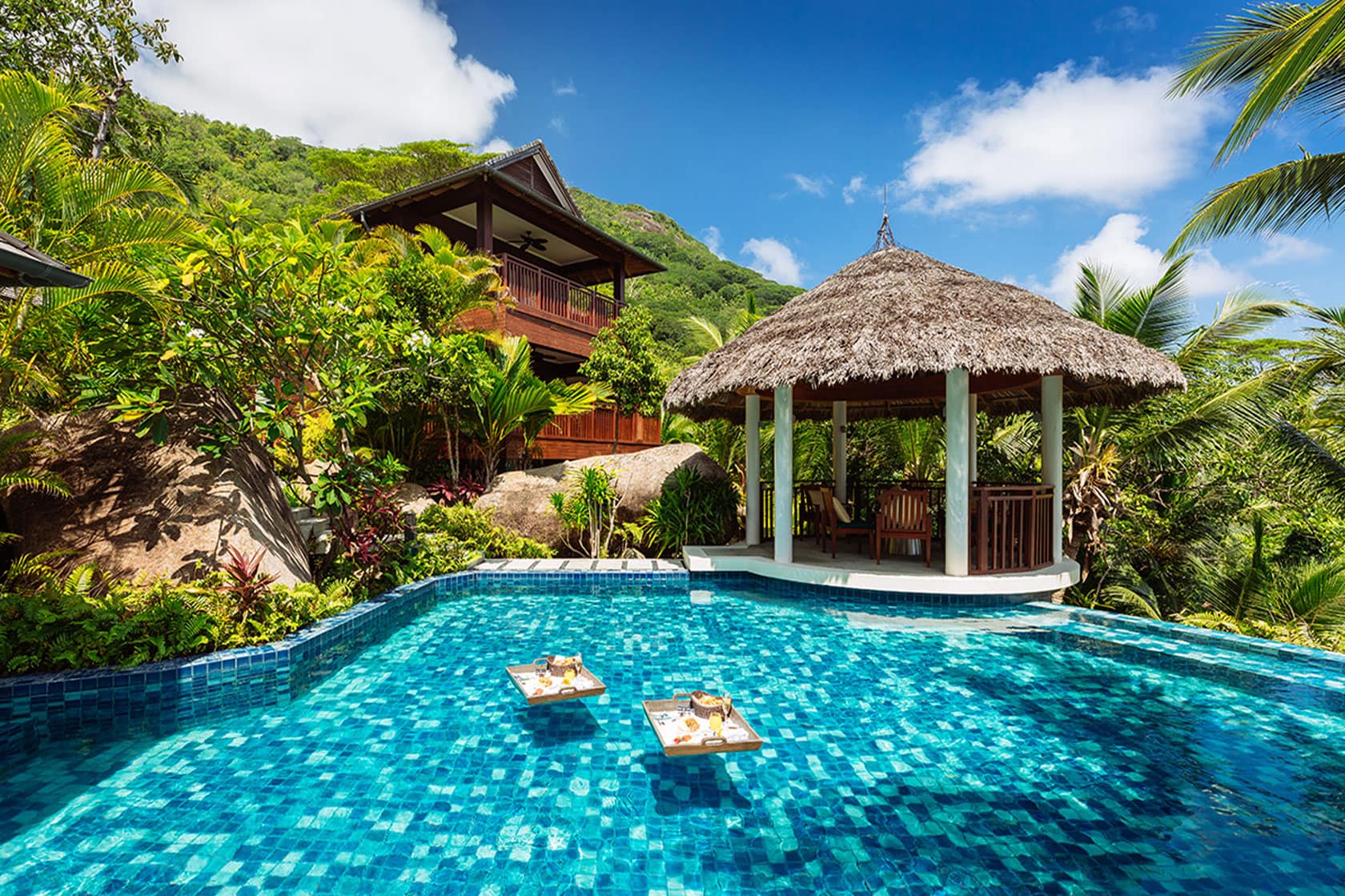 At the beginning of the year 2018 I was invited to create new advertising photos for the luxury hotel "Hilton Seychelles Labriz Resort & Spa" on the dream island Silhouette. Silhouette is the third largest island of the Seychelles and for me the second most beautiful island of the Seychelles. La Digue will probably remain my personal number 1 for a long time to come - but Silhouette follows directly after it!
Silhouette ist mit einer so üppig grünen Natur gesegnet, dass es wirklich schwer fällt, es in Worte zu fassen. Man muss es live erleben! Weit über 95% der Insel sind unberührt und naturbelassen. Während man auf den anderen Hauptinseln doch leider immer regere Bautätigkeiten zu verzeichnen hat, liegt Silhouette weiterhin im "Dornröschenschlaf". Ein wahres Eldorado für Naturliebhaber! Biologen halten die Insel nicht umsonst für eines der wichtigsten Artenvielfalts-Gebiete im Indischen Ozean!
Im März 2018 war es dann soweit: Mein "Foto-Trip" nach Silhouette begann. Am Bootsanleger im Nordwesten von Mahé, von welchem man seine Reise nach Silhouette startet, war ich zunächst ein wenig ratlos, als man mir eine Karte der Insel in die Hand drückte, auf welcher unter anderem die wunderschönen Garten- und Beachvillen des Hotels eingetragen sind.
Ich studierte die Karte und fand dort alle Villennummern – aber nicht "meine" Villa mit der Nummer 501. Leicht verwirrt wendete ich mich an die Empfangsdame und fragte, ob ich denn eine Gartenvilla oder eine Beachvilla durch das Hotelmanagement zugeteilt bekommen habe. "Weder noch! Sie sind in Villa 501 untergebracht. Das ist unsere Presidential mansion!"
Zu gerne hätte ich ein Video, welches meinen Gesichtsausdruck in diesem Moment zeigt. Vermutlich habe ich so blöd geschaut wie noch nie zuvor in meinem Leben – und ich kann echt blöd gucken, wenn ich will! 😉
The two-storey villa offers just about every luxury imaginable on a whopping 1,200 square metres. the daily rate is currently 2,200 euros. i spent five nights in the beautifully situated presidential villa and spent the days taking magnificent photos for the
Hilton Seychelles Labriz Resort & Spa to shoot!

Das aktuelle Foto der Woche zeigt die Präsidentenvilla und den dazugehörigen Pool. Mehrere Personen – darunter der PR-Chef und der Chefkoch der Insel – sorgen an diesem Vormittag mit mir dafür, dass wir tolle Bilder vom "floating breakfast" – dem "schwebenden Frühstück" – bekommen, welches sich der geneigte Gast auf Wunsch zu seiner Villa kommen lassen kann. Und nun ratet mal, wer die Köstlichkeiten anschließend verspeisen dürfte? Na, kommt Ihr drauf? 😀