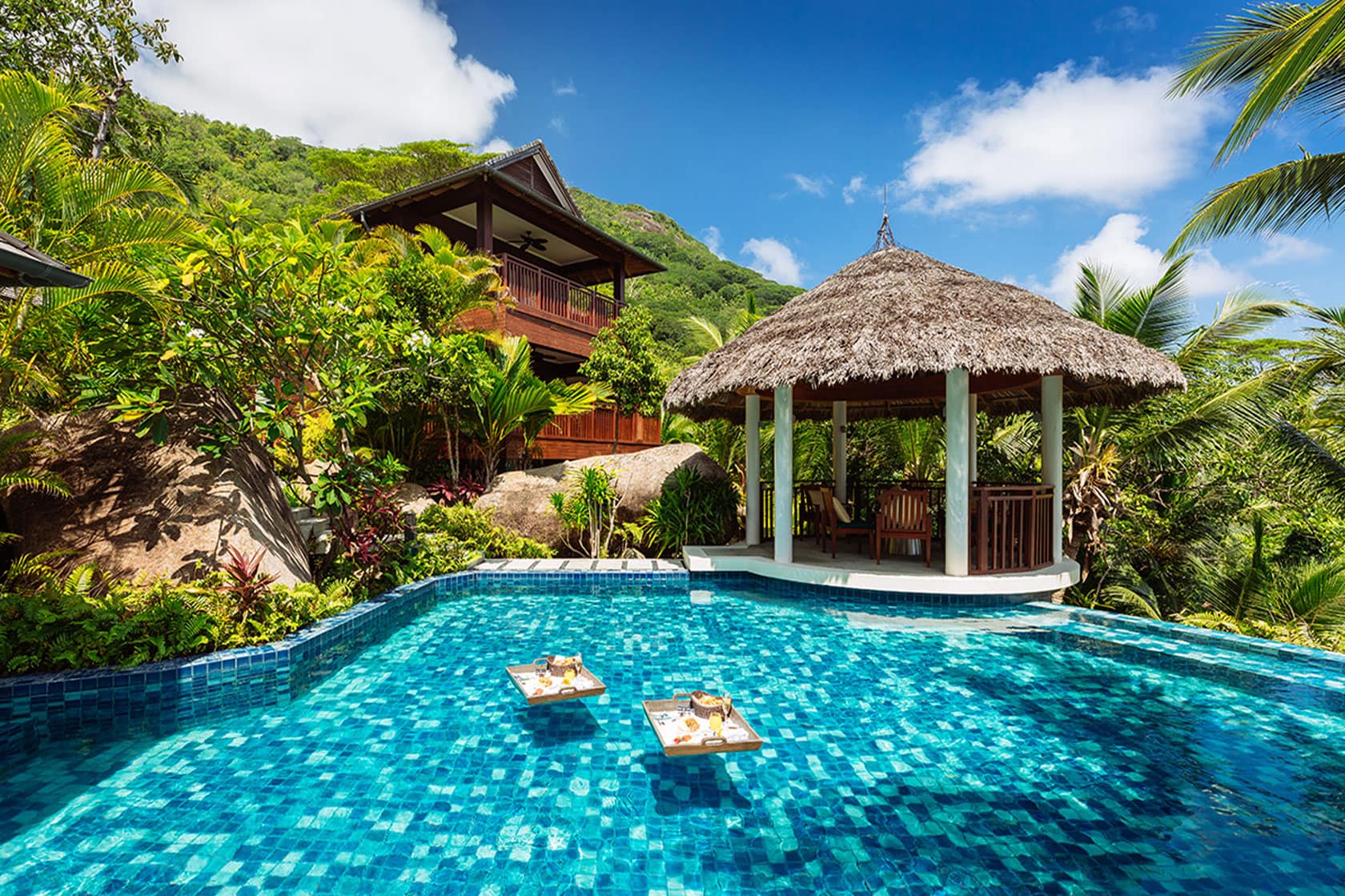 At the beginning of the year 2018 I was invited to create new advertising photos for the luxury hotel "Hilton Seychelles Labriz Resort & Spa" on the dream island Silhouette. Silhouette is the third largest island of the Seychelles and for me the second most beautiful island of the Seychelles. La Digue will probably remain my personal number 1 for a long time to come - but Silhouette follows directly after it!
Silhouette is blessed with such a lush green nature that it is really hard to put it into words. you have to experience it live! well over 95% of the island are untouched and unspoilt. while on the other main islands, unfortunately, construction activity is increasing all the time, Silhouette is still in a "Sleeping Beauty sleep". a true eldorado for nature lovers! it is not for nothing that biologists consider the island to be one of the most important biodiversity areas in the indian ocean!
In March 2018, my "photo trip" to Silhouette began: At the boat landing stage in the northwest of Mahé, from where my trip to Silhouette starts, I was a little bit perplexed when I was given a map of the island, on which the beautiful garden and beach villas of the hotel are marked.
I studied the map and found all the villa numbers there - but not "my" villa with the number 501. slightly confused, i turned to the receptionist and asked if i had been assigned a garden villa or a beach villa by the hotel management. "Neither one! You are staying in villa 501. This is our Presidential mansion!"
Zu gerne hätte ich ein Video, welches meinen Gesichtsausdruck in diesem Moment zeigt. Vermutlich habe ich so blöd geschaut wie noch nie zuvor in meinem Leben – und ich kann echt blöd gucken, wenn ich will! 😉
The two-storey villa offers just about every luxury imaginable on a whopping 1,200 square metres. the daily rate is currently 2,200 euros. i spent five nights in the beautifully situated presidential villa and spent the days taking magnificent photos for the Hilton Seychelles Labriz Resort & Spa to shoot!
Das aktuelle Foto der Woche zeigt die Präsidentenvilla und den dazugehörigen Pool. Mehrere Personen – darunter der PR-Chef und der Chefkoch der Insel – sorgen an diesem Vormittag mit mir dafür, dass wir tolle Bilder vom "floating breakfast" – dem "schwebenden Frühstück" – bekommen, welches sich der geneigte Gast auf Wunsch zu seiner Villa kommen lassen kann. Und nun ratet mal, wer die Köstlichkeiten anschließend verspeisen dürfte? Na, kommt Ihr drauf? 😀