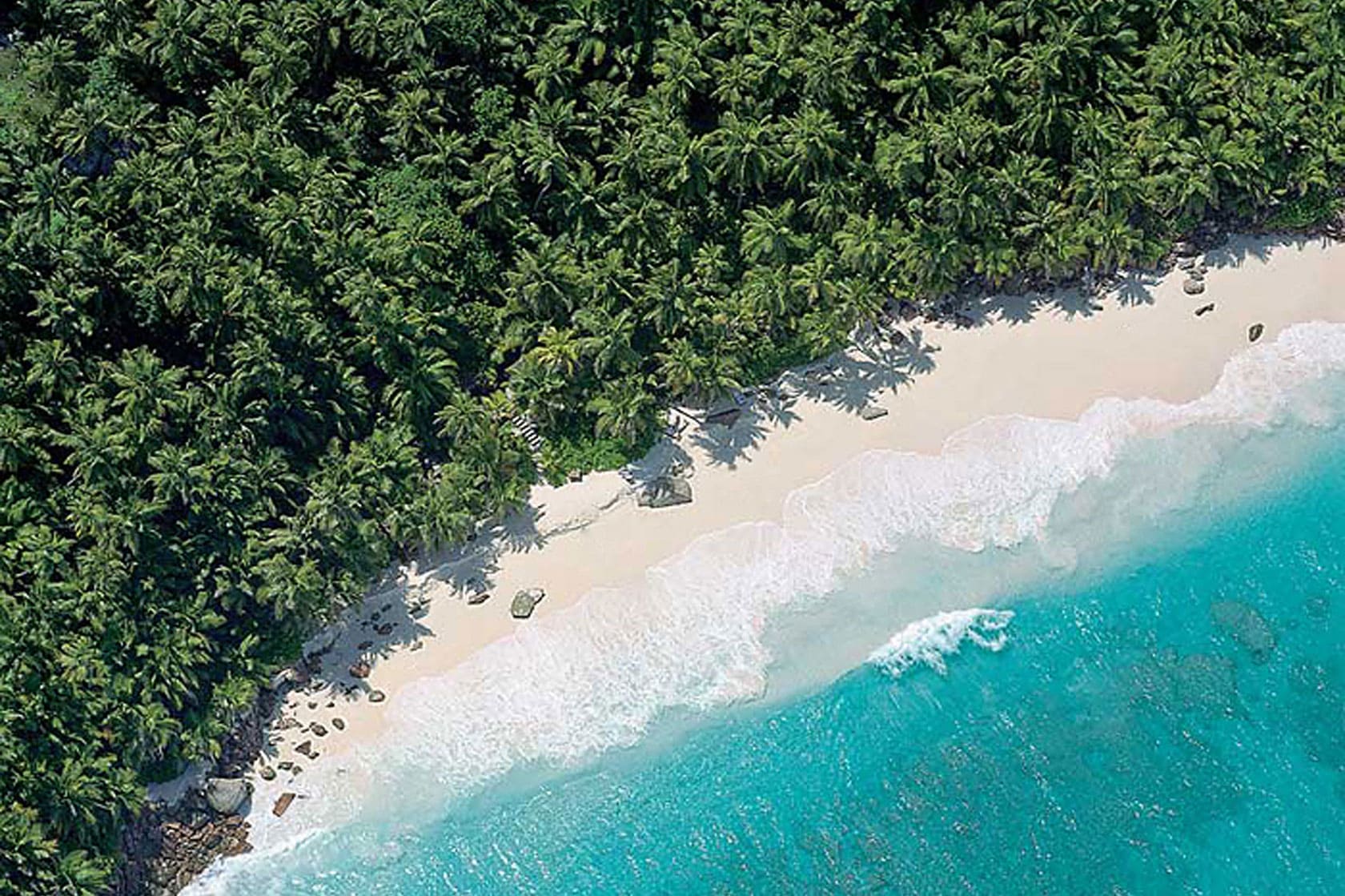 I have discovered the following article on today's 1st Christmas day and devoured it with pleasure! 25 centimetres of snow are lying directly in front of my window...
Enjoying the sun over the Christmas days, lying on the beach, leaving snow and cold behind, that's what many wish for - how do you celebrate Christmas in one of the most exclusive luxury hotels in the Seychelles?
Few people can afford a holiday at Frégate Island Private, where you put more money on the table for one night than a department store cashier in Switzerland earns in a month.
"Das Hotel, das ich führe, befindet sich auf einer rund 3 Quadratkilometer grossen Seychellen-Insel", erzählt der Berner Oberländer Marc Aeberhard gegenüber swissinfo.ch am Telefon.
Mit seiner kleinen Management-Gesellschaft hat er sich spezialisiert auf die Bewirtschaftung, Eröffnung und Sanierung von Klein- und Kleinsthotels im Luxusbereich. "In diesem Rahmen haben wir seit fast vier Jahren das Mandat von Frégate Island Private", sagt er. Wem die Tropeninsel gehört, will er nicht verraten: "Die Besitzer wollen nicht genannt werden."
Zwischen 60 und 70% seiner Arbeitszeit verbringt Aeberhard auf den Seychellen. Er ist stolz auf die einheimische Flora und Fauna seiner mittlerweile unter Naturschutz stehenden Hotelinsel. Sie beherbergt Tier- und Pflanzenarten, welche es nirgendwo sonst auf der Welt gibt. "In dieses Naturreservat wurden vor einem Dutzend Jahren 16 Villen gesetzt, die heute einer exklusiven Klientel zur Verfügung stehen."
Aeberhard justifies the unaffordable overnight prices for normal mortals with the offer. So the whole island is reserved for hotel guests. There is no access for day guests.
Furthermore, each of the generously furnished villas promises a high degree of privacy, of course, free sea views, a private pool and/or Jacuzzi.
The food is prepared as far as possible from products that grow on the island itself.
The Magpie Robin, the seventh-pentatious bird species in the world, lives only on the holiday island.
Was treibt Menschen zur Weihnachtszeit auf die abgelegene Frégate-Insel? "Zum einen wollen die Menschen der Hektik entfliehen, welche die Menschheit um die Weihnachtszeit jeweils besonders heimsucht" ist Aeberhard überzeugt.
"Wir kultivieren bewusst Slow Travel und Slow Food. Man kann sich bei uns der Musse der Langsamkeit hingeben. Der Urlaub soll bei uns zur Entdeckungsreise zu den eigenen Sinnen werden."
On the other hand, many guests also simply want to escape the cold and wet and enjoy the tropical sun and the beautiful beaches.
Snow and cold no, but Christmas celebrations yes, are palms simply decorated with candles, Christmas balls and tinsel?
"Ich mag keinen künstlichen Advent", erklärt Aeberhard. "Entweder macht man etwas richtig oder man lässt es bleiben. Weihnachten findet bei uns nicht mit dekorierten Palmwedeln statt. Wir erlauben uns einen gewissen Luxus und lassen jeweils einen richtigen Tannenbaum einfliegen." Darauf kommen echte Baumkerzen und Baumschmuck aus Fachgeschäften aus der Schweiz. Die dabei aufkommende Weihnachtsstimmung sei auch für die anwesenden Kinder wichtig.
" Wir erlauben uns einen gewissen Luxus und lassen jeweils einen richtigen Tannenbaum einfliegen. "
Marc Aeberhard, Hotel Manager
For this year Aeberhard has also invited a string quartet from the Symphony Orchestra of Kinshasa.
"Es sind Laienmusiker, die sich mit ganz viel Enthusiasmus und Begeisterung der klassischen Musik verschrieben haben. Wir bieten ihnen eine Plattform, vor einem internationalen Publikum zu spielen. Wie gross die Qualität der Weihnachtslieder aus dem Kongo sein wird, bleibt abzuwarten."
Das Hotel hält auch ein Geschenk für seine Gäste bereit. "Es gibt etwas für die Damen, etwas anderes für die Herren und etwas für die Kinder."
Auch die Gäste bringen Weihnachtsgeschenke mit. Manchmal bleiben diese auf der Strecke, wenn Koffer auf der Reise falsch geleitet werden oder verloren gehen. "In so einem Fall helfen wir auch aus, so gut wir können", erklärt Aeberhard die vielfältigen Aufgaben eines Hoteliers.
Da die Seychellen ein katholisches Land sind, feiert auch die Bevölkerung Weihnachten. "Der Grossteil unserer Mitarbeitenden stammt aus Ostafrika oder den Seychellen selbst. Weitere kommen aus Südafrika, Tansania, Simbabwe, Kenia, Indien, Sri Lanka und Bangladesch."
The majority of the crew come from a Christian environment, and for them it is important that Christmas is celebrated accordingly.
"Wir veranstalten jeweils ein paar Tage vor Weihnachten eine Feier für die Mitarbeitenden. Da gibt es ein schönes Weihnachtsessen und für jeden ein Geschenk", sagt Aeberhard, der dieses Jahr ohne Familie auf der Tropeninsel weilt.
"Für mich ist Weihnachten etwas sehr Wichtiges, sehr Schönes, das ich sehr gerne feiere. Aber in der Hotellerie ist das nicht immer möglich. Hier stehen die Gäste und die Mitarbeitenden im Vordergrund. Ich werde dann im Nachhinein, praktisch orthodox, Weihnachten feiern", sagt Aeberhard.
he has been living in the tropics and other warm areas for about 11 years. if there is something he misses, it is the seasons. especially now at christmas time. for him, cold and snow-covered fir trees are a great feeling and an essential part of the magic of christmas.
"In den letzten Jahren konnte ich keine weissen Weihnachten feiern. Ich freue mich sehr, wenn ich das in den kommenden Jahren wieder einmal erleben darf."
Etienne Strebel, swissinfo.ch