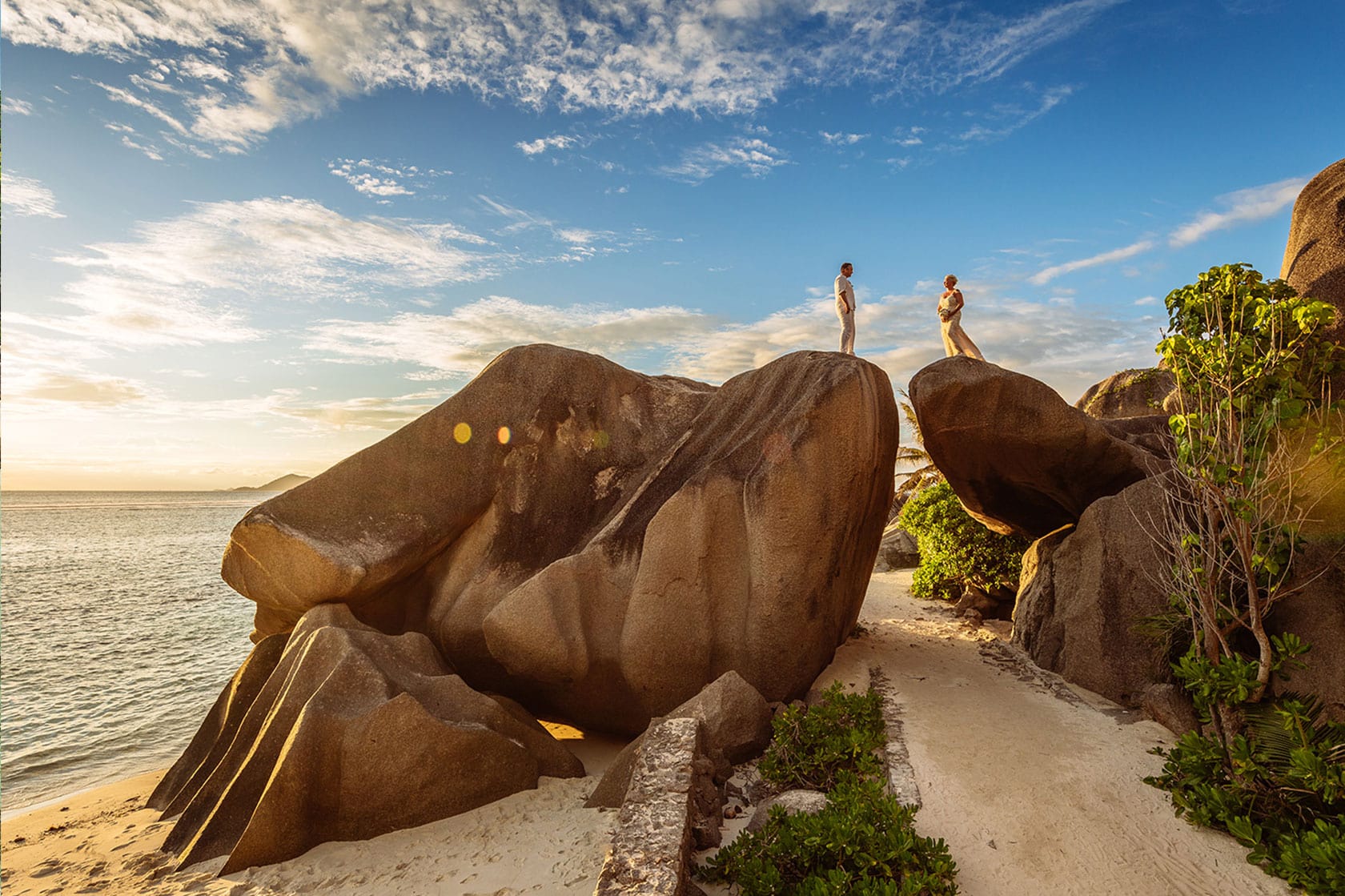 "That's too weird! How did the bride in her wedding dress get on the rock?" Dies ist wohl eine der mir am häufigsten gestellten Fragen. Und meine Antwort hierauf lautet: "Kommt drauf an!" 😉
"Did you conjure the bride on the rock with Photoshop?" For heaven's sake - no! I don't do such "tricks". If there is something really disturbing in the picture, I can retouch it (e.g. a garbage can) - but "put the bridal couple somewhere" where it wasn't - no. Even if it's possible: I don't do such things on principle!
Some rocks are quite easy to climb - even if it doesn't look like it on some photos, but on other rocks it is a small to medium "drudgery" to get to the top.
the rocks, which are very easy to climb, can usually be climbed in full wedding gear. of course i will go ahead and show you the way. of course i will always be there with a helping hand! i will also gladly take care of your "luggage" so that you can concentrate on yourself.
if i can't meet "my" wedding couples personally in my german homeland in north rhine-westphalia in advance, the personal meeting takes place a few days before the wedding in the seychelles. we meet on site (usually for a joint dinner), then we talk together about everything that interests you and i will answer all your questions. after more than 100 weddings that i have photographed in the seychelles so far (and additionally about 350 other weddings within europe), i know that this can sometimes be quite a lot of questions. but go ahead! i am quasi "the walking seychelles wedding encyclopedia" and will be happy to answer your questions!
When you have received all the answers you want from me, my questions will come to you, asking you, for example, how "kletterfit" you feel and whether you might be able to find answers under Fear of heights At some few photo spots you have to walk over a narrow crevice in the rock to reach your destination. If this is not for you, the "Photoman Rock" This may be a pity, but it's not the end of the world - La Digue (and almost every other island) has so many great photo spots to offer that we then head for a "cozier" alternative.
Aber zurück zum Kleid: Sofern Ihr Euch fit genug für den soeben erwähnten "FOTOMANN Rock" fühlt, so bedeutet dies, dass Ihr Eure Hochzeitskleidung in eine ausreichend große Tasche packen solltet. Kennt Ihr diese großen, blau-gelben Umhängetaschen des multinationalen Einrichtungskonzerns, der 1943 von Ingvar Kamprad in Schweden gegründet wurde? Ich möchte die vier Buchstaben des Firmennamens hier nicht nennen, um keine Werbung zu machen… 😉
In any case, these shoulder bags are perfectly suited to store many things in, and it is also ideal if you have a Wedding dress cover mitnehmt, denn hierin ist das Kleid ideal geschützt. Natürlich ist es ein wenig umständlich, mit der Brautkleidhülle und einer Umhängetasche durch den Dschungel zu wandern – aber ohne Fleiß nun mal kein Preis und somit keine mega-ausgefallenen Hochzeitsfotos von den Seychellen, bei denen Ihr auf den bizarr geformten Granitfelsen steht! 🙂