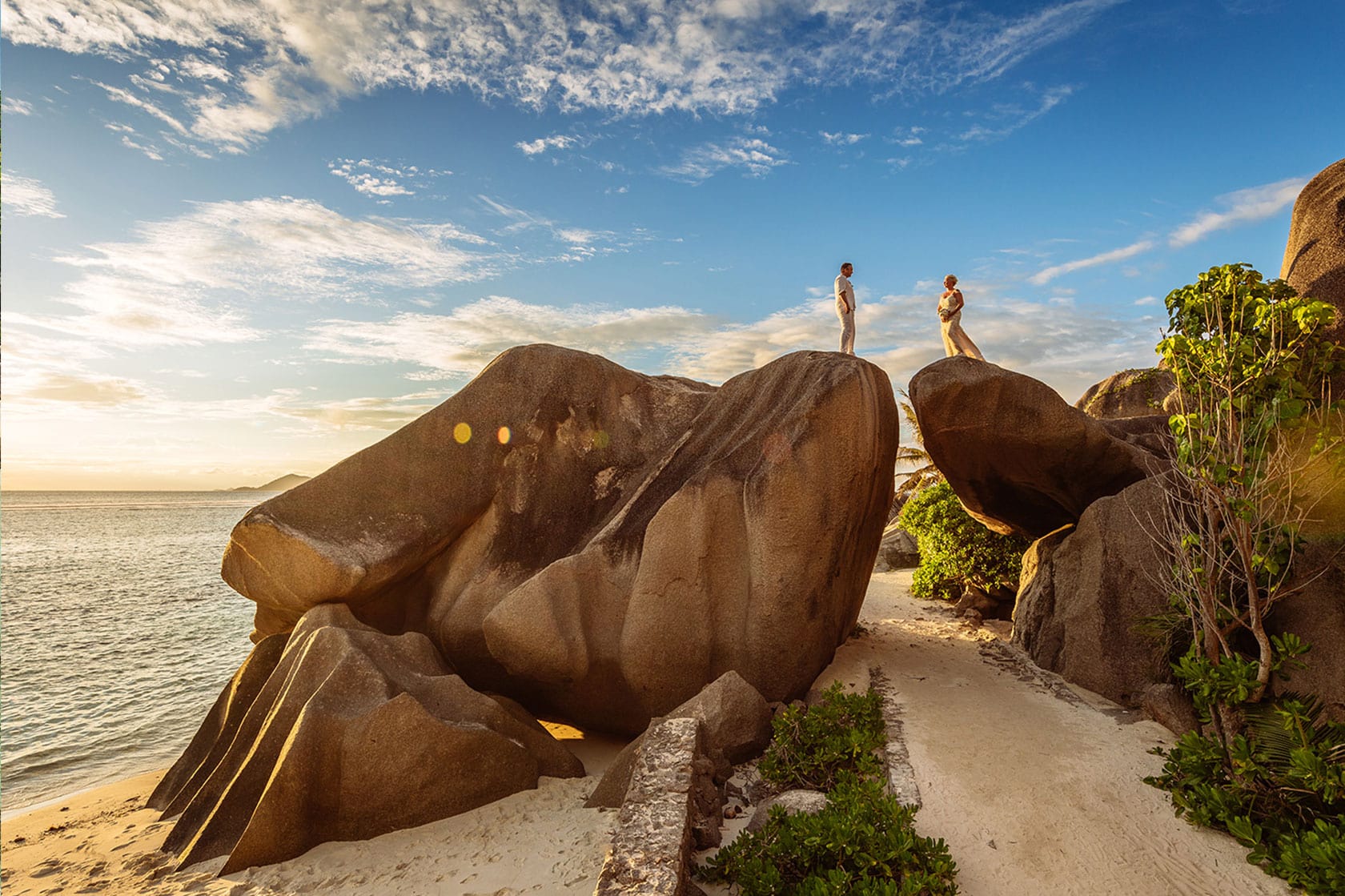 "Das ist ja zu krass! Wie ist denn die Braut im Brautkleid auf den Felsen gekommen?" Dies ist wohl eine der mir am häufigsten gestellten Fragen. Und meine Antwort hierauf lautet: "Kommt drauf an!" 😉
"Hast Du die Braut etwa per Photoshop auf den Felsen gezaubert?" Um Himmels Willen – nein! Solche "Tricksereien" mache ich nicht. Sollte etwas wirklich Störendes im Bild sein, so kann ich dies retuschieren (z.B. eine Mülltonne) – aber das Brautpaar irgendwo "hinstellen", wo es gar nicht war – nein. Auch wenn es möglich ist: Sowas gibt es bei mir prinzipiell nicht!
Manche Felsen sind recht leicht zu besteigen – auch wenn es auf so manchem Foto nicht danach aussehen mag. Bei anderen Felsen wiederum ist es schon eine kleine bis mittelgroße "Plackerei", um nach oben zu gelangen.
Die Felsen, die sehr einfach zu erklimmen sind, können meist in voller Hochzeitsmontur bestiegen werden. Ich gehe natürlich voraus und zeige Euch den Weg. Selbstverständlich stehe ich hierbei jederzeit mit einer helfenden Hand parat! Um Euer "Gepäck" kümmere ich mich ebenfalls gerne, damit Ihr Euch ganz auf Euch konzentrieren könnt.
Sofern ich "meine" Hochzeitspaare nicht bereits im Vorfeld persönlich in meiner deutschen Heimat in Nordrhein-Westfalen kennenlernen kann, so findet das persönliche Kennenlernen einige Tage vor der Hochzeit auf den Seychellen statt. Wir treffen uns vor Ort (meist zu einem gemeinsamen Abendessen), reden dann gemeinsam über alles, was Euch interessiert und ich beantworte Euch all Eure Fragen. Nach mehr als 200 Hochzeiten, die ich bisher auf den Seychellen fotografiert habe (und zusätzlich noch rund 350 weitere Hochzeiten innerhalb Europas), weiß ich, dass das teilweise echt viele Fragen sein können. Aber nur zu! Ich bin quasi "das wandelnde Seychellen-Hochzeits-Lexikon" und beantworte Eure Fragen gern!
Wenn Ihr dann alle gewünschten Antworten von mir bekommen habt, kommen meine Fragen an Euch. Hierbei erfrage ich dann beispielsweise, wie "kletterfit" Ihr Euch fühlt und ob Ihr vielleicht unter Fear of heights At some few photo spots you have to walk over a narrow crevice in the rock to reach your destination. If this is not for you, the "FOTOMANN Rock" als Fotomotiv aus. Dies ist zwar schade, aber kein Weltuntergang – denn La Digue (und auch nahezu jede andere Insel) hat so viele tolle Fotospots zu bieten, dass wir dann eine "gemütlichere" Alternative ansteuern.
Aber zurück zum Kleid: Sofern Ihr Euch fit genug für den soeben erwähnten "FOTOMANN Rock" fühlt, so bedeutet dies, dass Ihr Eure Hochzeitskleidung in eine ausreichend große Tasche packen solltet. Kennt Ihr diese großen, blau-gelben Umhängetaschen des multinationalen Einrichtungskonzerns, der 1943 von Ingvar Kamprad in Schweden gegründet wurde? Ich möchte die vier Buchstaben des Firmennamens hier nicht nennen, um keine Werbung zu machen… 😉
In any case, these shoulder bags are perfectly suited to store many things in, and it is also ideal if you have a Wedding dress cover mitnehmt, denn hierin ist das Kleid ideal geschützt. Natürlich ist es ein wenig umständlich, mit der Brautkleidhülle und einer Umhängetasche durch den Dschungel zu wandern – aber ohne Fleiß nun mal kein Preis und somit keine mega-ausgefallenen Hochzeitsfotos von den Seychellen, bei denen Ihr auf den bizarr geformten Granitfelsen steht! 🙂