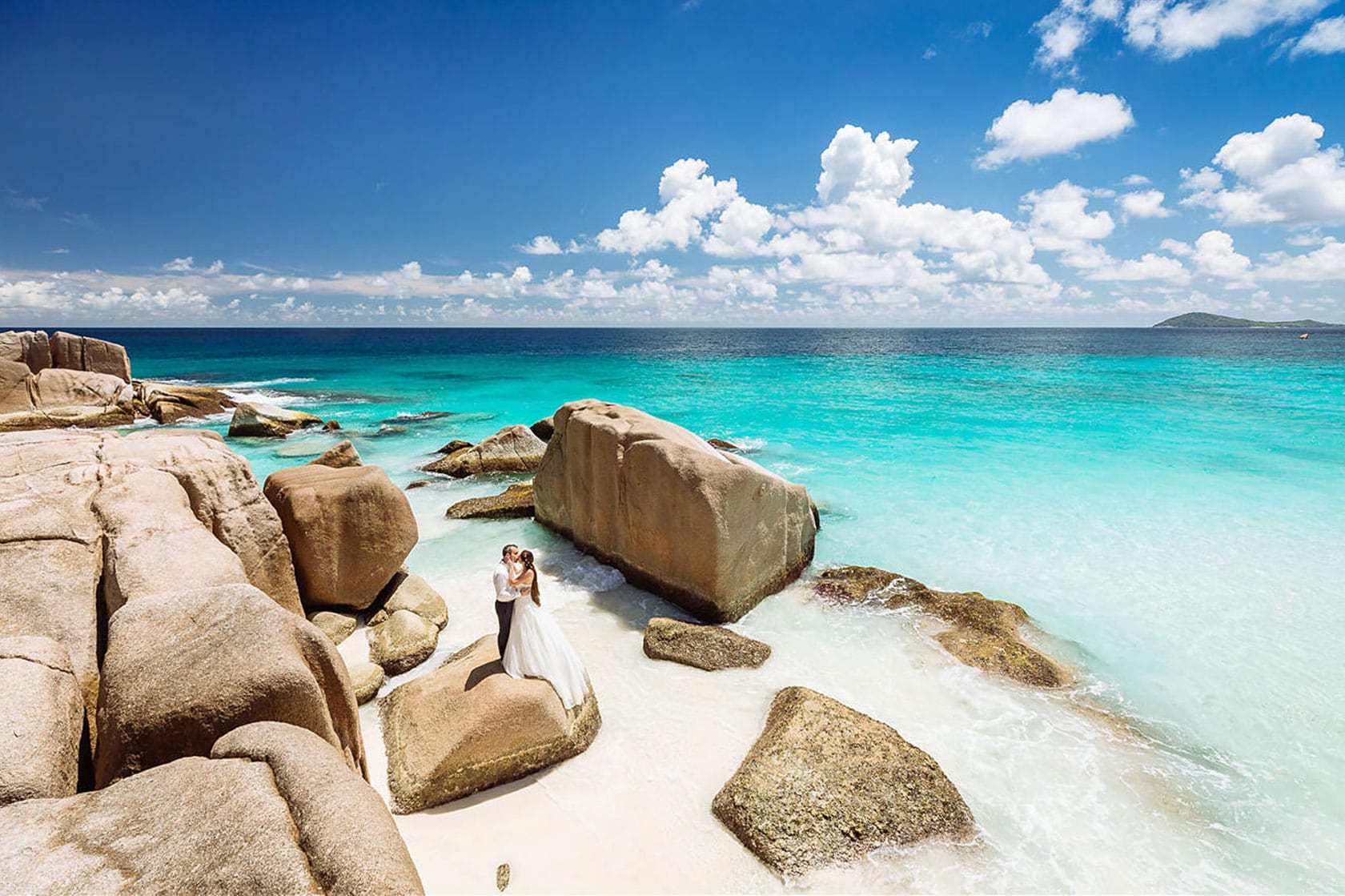 In the following article, which I have just published under https://www.neues-deutschland.de/artikel/211396.wir-haben-fast-alles-ausser-eile.html entdeckte, gibt es Wissenswertes über die Seychellen allgemein als auch Infos zum Heiraten auf den Seychellen! 🙂
how many islands belong to the seychelles? vanessa laughs: "115, but there can also be two more or less." the eyes in the brown face of the dainty creole flash mischievously and seem to say: what difference do a few islands make to us seychellois? just a few months ago, two new islands appeared in the seychelles archipelago of the indian ocean. they were baptized "island of the sun" and "the survivor". vanessa explains that eight islands are permanently inhabited, 44 only temporarily. "but that changes every now and then," she puts into perspective. that's why you won't find exact numbers in any travel guide.
However, there are a good 1000 kilometres between the bird island "Bird" and the "Aldabra Atoll", where the world's largest turtles live, as much as from the inner ring of islands to the African mainland, to Tanzania or Kenya.
Vanessa, who actually wanted to become an English teacher, had switched to the travel business when she got a job with a travel company. since then she has put her heart and soul into the most important economic factor of the Seychelles. full of pride she emphasizes: "we also have the smallest frogs, carnivorous plants, the only flightless bird, the most beautiful beaches and the biggest nuts in the world." if you want to see these giant coconuts of the Seychelles, you have to go from the main island Mahé to Praslin, the second largest of the archipelago. either a quarter of an hour by plane or 45 minutes by catamaran. we choose the cheaper option, even though it is quite shaky with the usual September winds.
Praslin with its white beaches and turquoise sea is very reminiscent of those postcards that look like they have been edited with Photoshop. but these beaches, these waters are really real. the one at the "Arne Lazio" is supposed to be the "most beautiful beach in the world". however, many tourist experts in many countries claim the same about their "dream beaches".
In den Tropenwald von Praslin führt uns Thomas, ein exzellenter Kenner der Region. Obwohl er schon mehr als zwei Jahrzehnte lang Touristen in das »Vallée de Mai«, das Mai-Tal, führt, spürt man immer wieder seine Begeisterung für das von der UNESCO geschützte Weltnaturerbe. Hier wachsen die größten Nüsse der Erde, die Meereskokosnüsse. Thomas hebt eine der mächtigen Früchte auf und stemmt sie in die Luft – zwölf Kilo schwer. »Die meisten erreichen zwischen acht und 20«, erzählt er. Er deutet nach oben, wo der Palmenurwald nur ein paar Sonnenstrahlen hineinlässt, und erzählt Geschichten, die unglaublich erscheinen: »Erst, wenn der Baum 25 Jahre alt ist, trägt er Früchte und hat nach 100 Jahren seine volle Höhe erreicht.« Diese kann dann bis zu 40 Meter sein, bis zu zehn dieser mächtigen Nüsse kann so ein Baum tragen. Die bisher schwerste soll 22 Kilogramm gewogen haben. Längst ist die Riesenkokosnuss zum Symbol der Seychellen avanciert und findet sich in allen nur vorstellbaren und unvorstellbaren Kleinstvarianten in den Souvenirläden. Wer jedoch eine der pro Jahr genehmigten 1000 zu verkaufenden Originale erwerben will, muss schon tief in die Tasche greifen. 200 bis 300 Euro kostet sie mindestens. Genüsslich präsentiert Thomas die ungewöhnliche, leicht geteilte Form der »Coco de Mer«, und sein tiefschwarzes Gesicht lächelt verschmitzt dabei. Sie erinnert nämlich an ein weibliches Becken. Das weiße Innere soll potenzfördernd sei. Mann muss wohl nur fest daran glauben! Eine uralte Geschichte berichtet vom König der Malediven, der diese Kokosriesen in sein Reich holen ließ und jeden mit dem Tod bestrafte, der sich eine privat abzweigte.
The Seychelles have a magical attraction for lovers. Many are drawn to the smaller neighbouring island of Praslin, to "La Digue", which has also gained fame as a wedding island. In the harbour, guests are loaded onto an ox cart and driven into the interior of the island, which former seafarers already called the "Garden of Eden". The granite rocks, according to Thomas, are said to have been formed by divine hands.
a gate with flowers has been set up on one of the picture book beaches. a wedding couple is expected. making the bond for life in the seychelles is no problem. many hotels even offer wedding arrangements free of charge and take care of all the formalities. and of course the honeymoon.
Thomas shows us the city in which he was born and where he still lives. it is called victoria and is located in the northeast of the main island of mahé, where 90 percent of the total of about 90,000 seychellois live. it is considered the smallest capital in the world - two traffic lights, three roundabouts, four main streets. as a relic of the former english colonial period, which only ended in 1976, a replica of london's big ben stands in the middle of the city, which gongs here twice on the hour. if you still look at the lively colorful morning market, the botanical garden, the national museum and the stadium, you have already explored victoria.
"we have almost everything but haste", emphasizes our guide. the remoteness of the granite islands and their natural beauty may have contributed to this. the so-called main island is only 28 km long. but with what vegetation! from victoria, we can already sense those jungle mountains in the interior of mahé, before we take the sans souci road over the ridges to beau vallon bay, the longest white-beached bay. the highest peak, the "morne seychellois", rises 905 m high - and that with an island width of only eight kilometres. mountain tours are possible here if you start as early as possible. temperatures in the seychelles are constant all year round: about 22 degrees at night, 26 to 28 degrees during the day.
The standard of living in this island state is considered to be the highest by African standards. there is plenty of work. Thomas calculates that up to 15 per cent guest workers are needed, mainly for fishing and hotel resorts.
the story is interesting in general. in 1976, after independence, a coup set in motion a kind of socialist system in which the state controlled the economy. the islanders received support from the Soviet Union and also from the GDR. after 1992, their inhabitants then repeatedly elected the president of the pre-reunification period and retained certain social achievements: old-age pension, free health care and education. every inhabitant has the right to an apartment, and those who want to build their own house receive a loan, the compensation for which may not exceed a quarter of the monthly salary.
Infos: Seychelles Tourist Office, Hochstr. 17, 60313 Frankfurt am Main, Tel.: (069) 297 207 89, E-Mail: info@sechelles-service-center.de, www.seychelles.travel Besonderheiten: Karneval auf den Seychellen immer im März und Oktober; Seychellen-Marathon/Halbmarathon/10 und 5 km Anfang März Veranstalter von Reisen auf die Seychellen: Mason's Travel, Revolutions Avenue, Victorisa, Mahe, Seychelles, www.masonstravel.com. Veranstalter zu Marathon und weiteren Läufen: Reisezeit Tourismus GmbH, Lohmühlenstr. 65, 12435 Berlin, www.reisezeit-tourismus.de Literatur: Reise-Handbuch »Seychellen«, Dumont-Verlag, 22,95 €