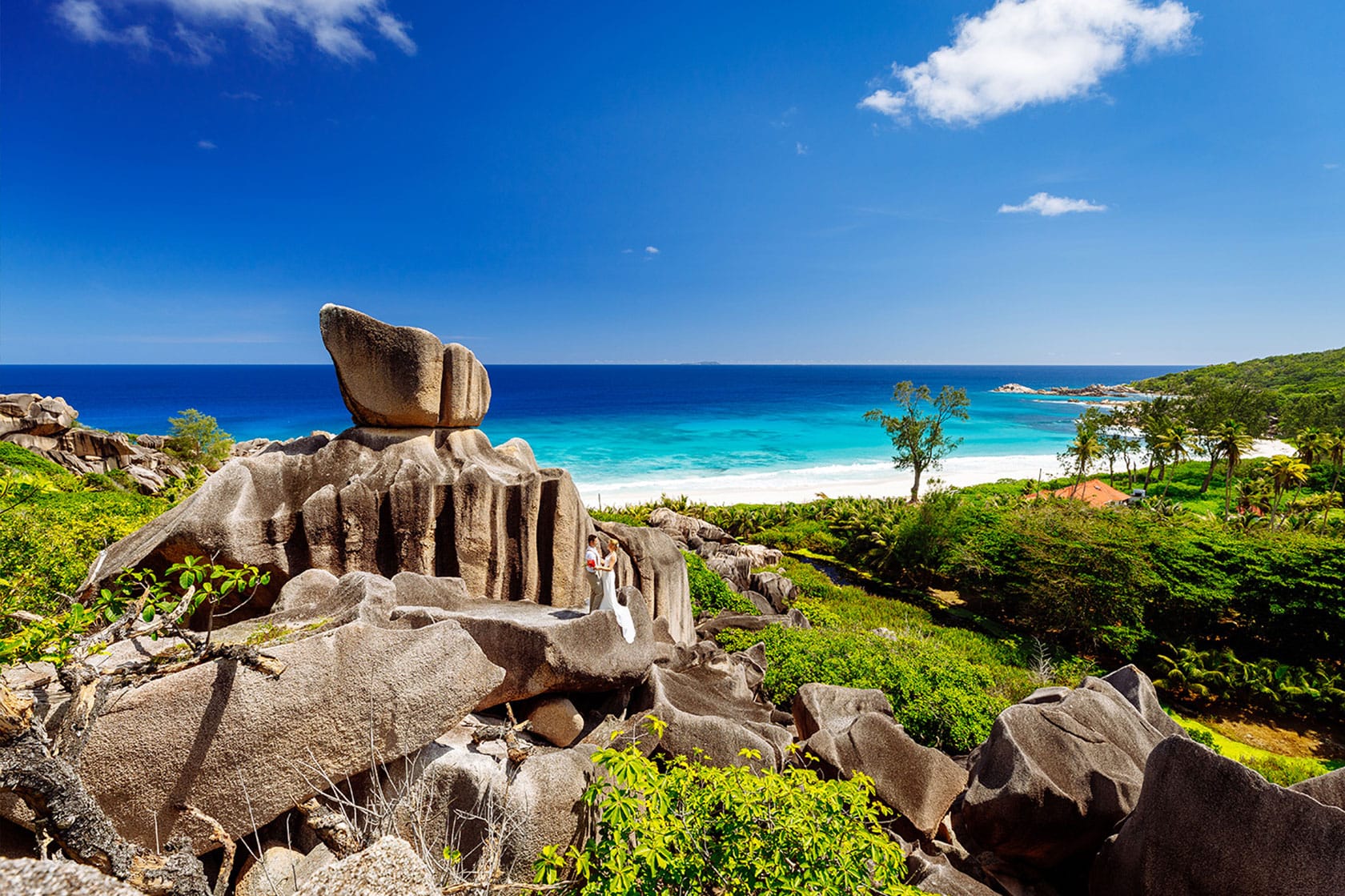 Hand on heart: Did you discover the bridal couple on the photo immediately or only at second glance?
Dieses Motiv ist sowas wie mein "Aushängeschild". Ganz viele "meiner" Paare zeigen mir dieses Foto, welches sie zuvor von meiner Seite heruntergeladen haben, am Tag ihrer Hochzeit und sagen mir, dass sie dieses Motiv auch unbedingt haben möchten.
"Kommt man da denn im Brautkleid gut hoch?" wurde ich nun bereits häufiger gefragt. Die Antwort: Nein, auf keinen Fall! Es gibt so einige Fotospots in meinem Portfolio, zu denen man nicht in voller Hochzeitsmontur gelangt. Die erwandert und teils erklettert werden müssen. Hierzu werde ich aber in den nächsten Tagen einen separaten Blogeintrag verfassen.
Jedenfalls möchten viele Paare, die ich auf La Digue begleite, an dieser unfassbar coolen Fotolocation von mir fotografiert werden. Der Weg dort hinauf ist allerdings durchaus ein wenig sportlich! Schon einige Paare haben auf dem Weg nach oben mal kurz geflucht – aber die grandiosen Bilder, die dort oben am Ziel entstehen, sind einfach "nicht von dieser Welt" und entschädigen für die Strapazen.
Mittlerweile war ich in allen Monaten und zu nahezu allen Tages- und Nachtzeiten dort oben – ja, sogar zum Sonnenaufgang! – und weiß mittlerweile minutengenau, wann die Sonne perfekt steht, um die Location in dieses sensationelle Licht zu tauchen, ohne dabei zu viele Partien abzuschatten. Bereits jetzt freue ich mich auf den nächsten Aufstieg hoch zum "Fotomann Rock"!