Unique by a thousand miles!
"Unique by a thousand miles" – dieser Slogan bringt es perfekt auf den Punkt: Dadurch, dass sich die 115 Inseln der Seychellen über tausend Meilen vom nächsten Festland entfernt mitten im Indischen Ozean befinden, konnte sich eine einzigartige Natur und Artenvielfalt entwickeln. Die Strände der Seychellen gelten als die schönsten der Erde!
More information about the Seychelles: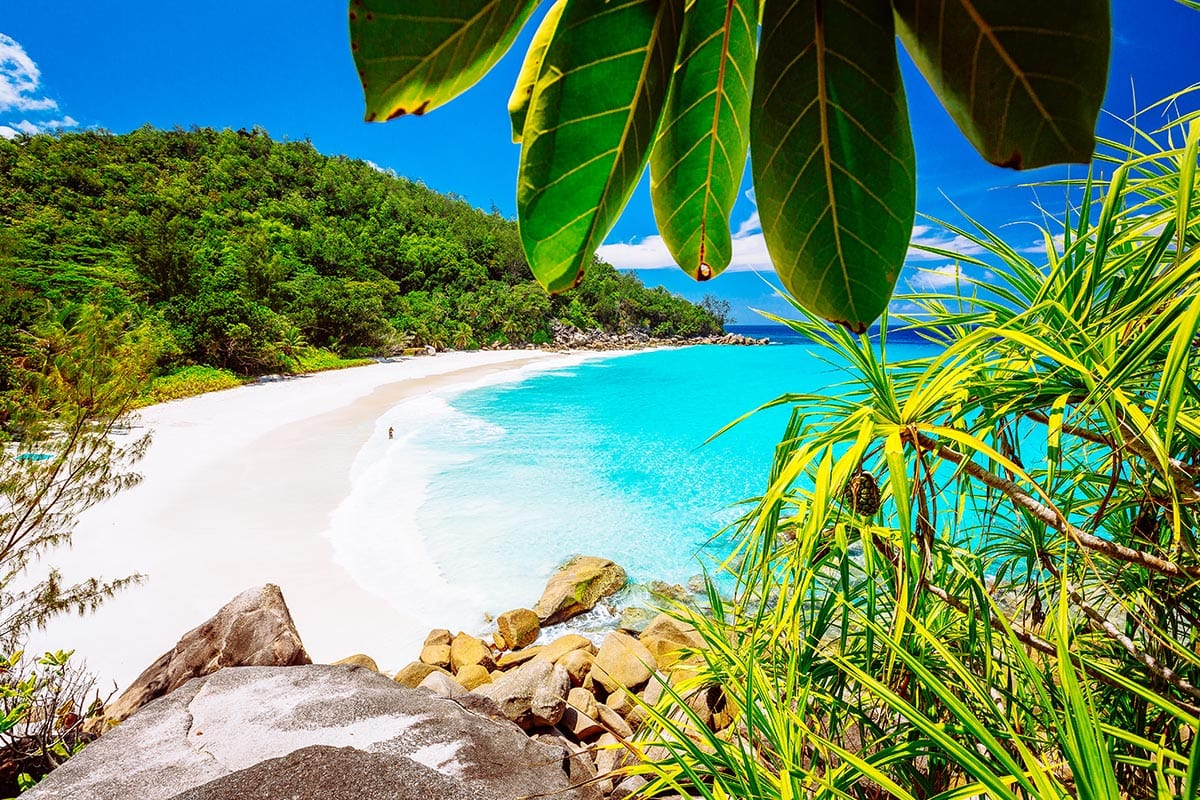 Neben den absolut traumhaften Stränden sind es vor allem das ganzjährig hochsommerliche Klima, die Mentalität der Einheimischen, die fantastische kreolische Küche sowie die unkomplizierte Anreise, welche die Seychellen für mich zum schönsten Reiseziel der Erde machen.
Bei der ersten Reise auf die Seychellen bietet sich ein sogenanntes "Inselhüpfen" an, bei welchem man mehrere der Inseln entdecken kann. Besonders die drei Hauptinseln Mahé, La Digue und Praslin sind es wert, ausgiebig erforscht zu werden.
More information about creole cuisine: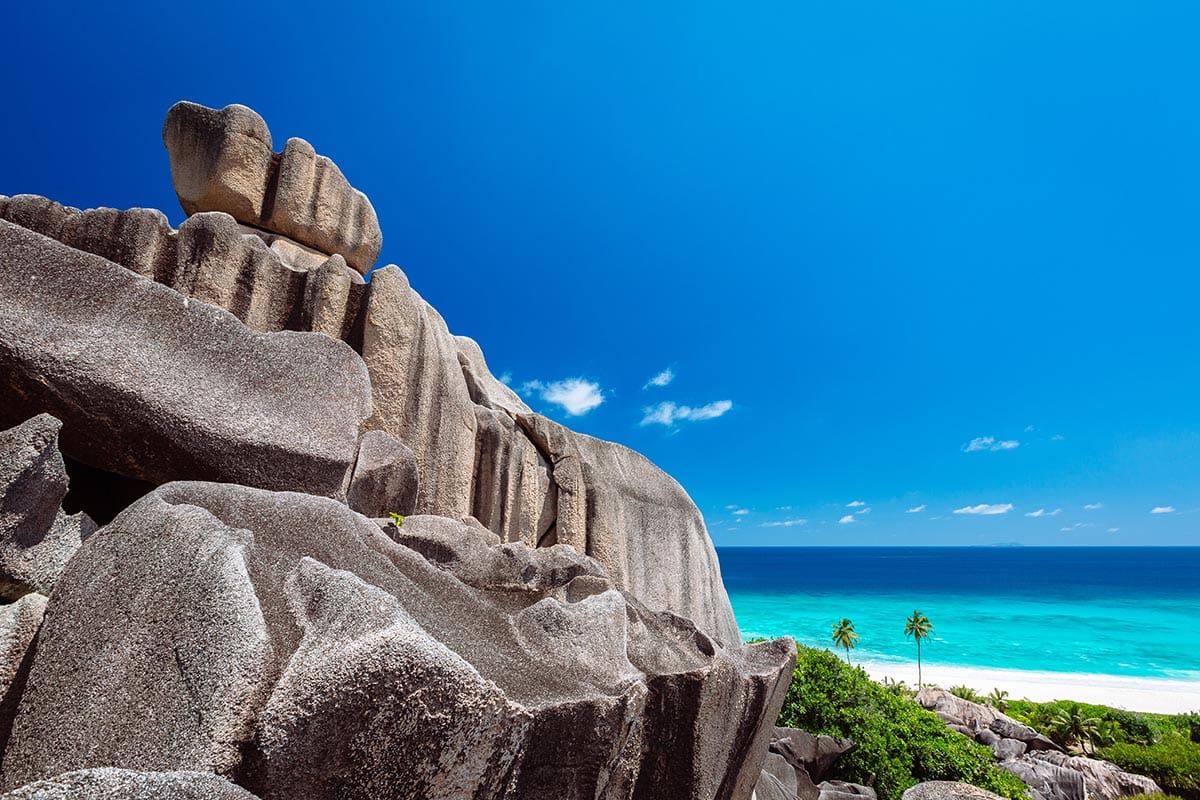 Unterkünfte gibt es in allen Preisklassen: Vom Zimmer im privat geführten, sehr gepflegten Gästehaus für sagenhafte 35 Euro pro Nacht und Person ( bei Belegung mit zwei Personen) bis hoch zur absoluten Luxusvilla auf einer Privatinsel, in welcher die Übernachtung mit weit über 4.000 Euro zu Buche schlägt. Aber bitte lasst Euch nicht von der oft zu hörenden Aussage, dass die Seychellen gnadenlos teuer wären, in die Irre führen!
Besonders auf der kleinen Dream island La Digue, die mit den wohl schönsten Stränden der Erde gesegnet ist, findet man reichlich Unterkünfte im unteren und mittleren Preissegment. La Digue ist dank der phänomenal schönen Strände the wedding island par excellence – auch wenn die Hochzeitsplaner, die auf der Hauptinsel Mahé oder auf einer der anderen Inseln wohnen, Euch vermutlich der Einfachheit halber etwas Anderes erzählen möchten. Die meisten Paare informieren sich aber im Vorfeld ausführlich und landen somit quasi automatisch zur Hochzeit auf der Trauminsel La Digue, denn nahezu jedes Brautpaar möchte verständlicherweise in dieser einmaligen Kulisse heiraten und die berühmten Felsformationen von La Digue mit eigenen Augen sehen. Über 90% der Seychellen-Hochzeitsfotos, die Ihr von mir im Netz findet, sind auf La Digue entstanden!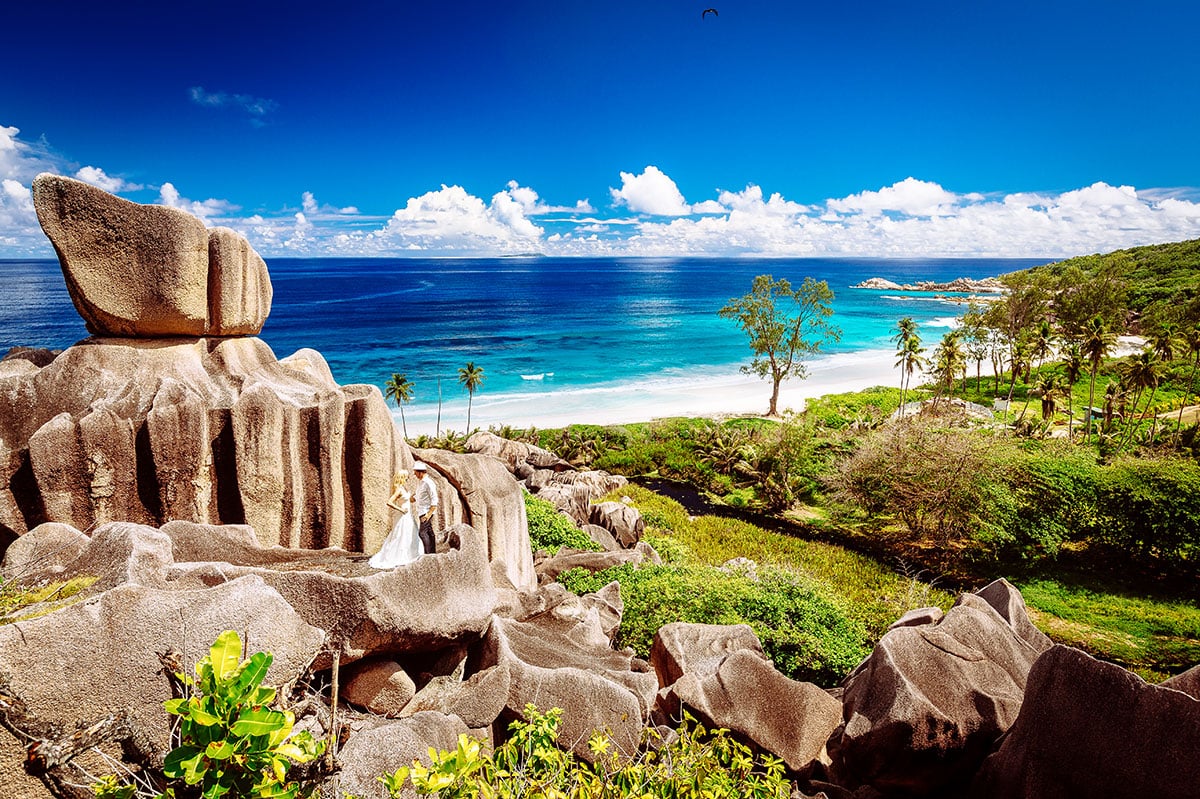 Auch wohnt ein ganz besonders ambitionierter Hochzeitsplaner auf La Digue – der beste Hochzeitsplaner, den ich auf den Seychellen kenne! Er versteht es wie kein Zweiter, den Ort der Trauung traumhaft schön herzurichten. Selbstverständlich wird der Ort Eurer Trauung durch ihn exakt nach Euren Wünschen und Vorstellungen gestaltet! Gerne stelle ich Euch den direkten Draht zu diesem Hochzeitsplaner her, wenn Ihr mich als Fotografen für Eure Wedding in the Seychelles bucht. So spart Ihr Euch den kostspieligen Umweg über eine zwischengeschaltete Hochzeitsagentur. Gerne übernehme ich für Euch auch die komplette Kommunikation mit dem Hochzeitsplaner, sofern Ihr dies wünscht!

Eure ganz persönliche Traumreise könnt Ihr am besten von einem auf die Seychellen spezialisierten Reiseveranstalter wie z.B. "SeyVillas", "Meerzeitreisen" oder "Lavigne Reisen" organisieren lassen. So müsst Ihr Euch um nichts mehr selbst kümmern, sondern gebt alles in Expertenhände ab. Einfacher geht´s nicht! 
More information about the tour operators: