Marriage in the Seychelles
your beach wedding in the seychelles
Marriage in the Seychelles
You are really to be envied if you get married on the Seychelles - because an even more beautiful place will have to be searched for a long time all over the world! Especially on the small island La Digue nature has been particularly kind to the island and has provided it with the most beautiful beaches in the world. Wedding in the Seychelles However, if you want to get married at one of the exclusive island resorts such as Frégate Island Private, North Island Seychelles or Felicité, you should take the slightly larger wallet... 😉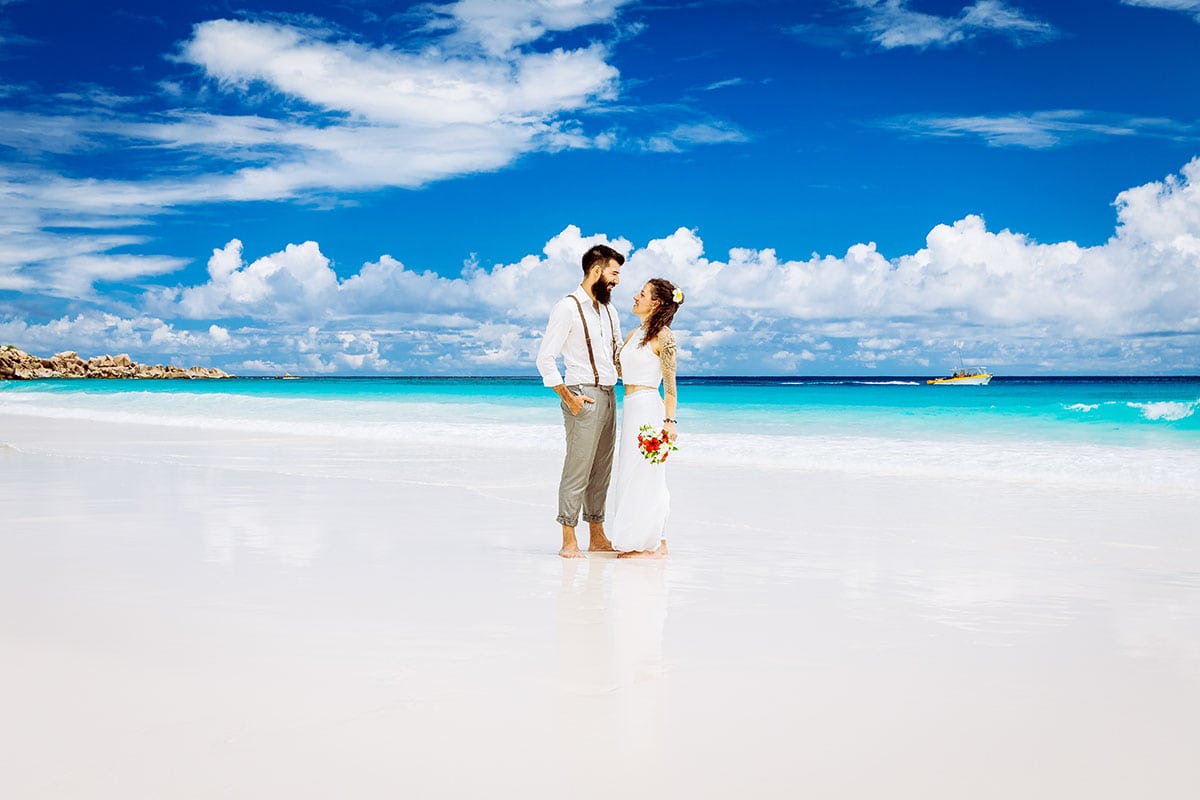 Almost every day I receive various questions from couples on the subject of "Getting married in the Seychelles" or "Wedding in the Seychelles":
1. is such a wedding even legally valid in the Seychelles?
But of course it is! your marriage in the Seychelles is easily recognised in Germany, Austria, Switzerland and almost all other countries.
2. at our wedding in the Seychelles we want you as our photographer at our side. What do we have to do?
Just contact me and we will discuss everything else, I am looking forward to your message or call!
3. we already got married several weeks/months/years ago in our home country (or don't even think about getting married at all), but we travel to the Seychelles and wish to have your photos. is this also possible?
Of course, for fantastic pictures of the two of you on the beach we don't need a wedding ceremony, the best pictures are taken anyway when only the three of us are on the beach.
Wedding in the Seychelles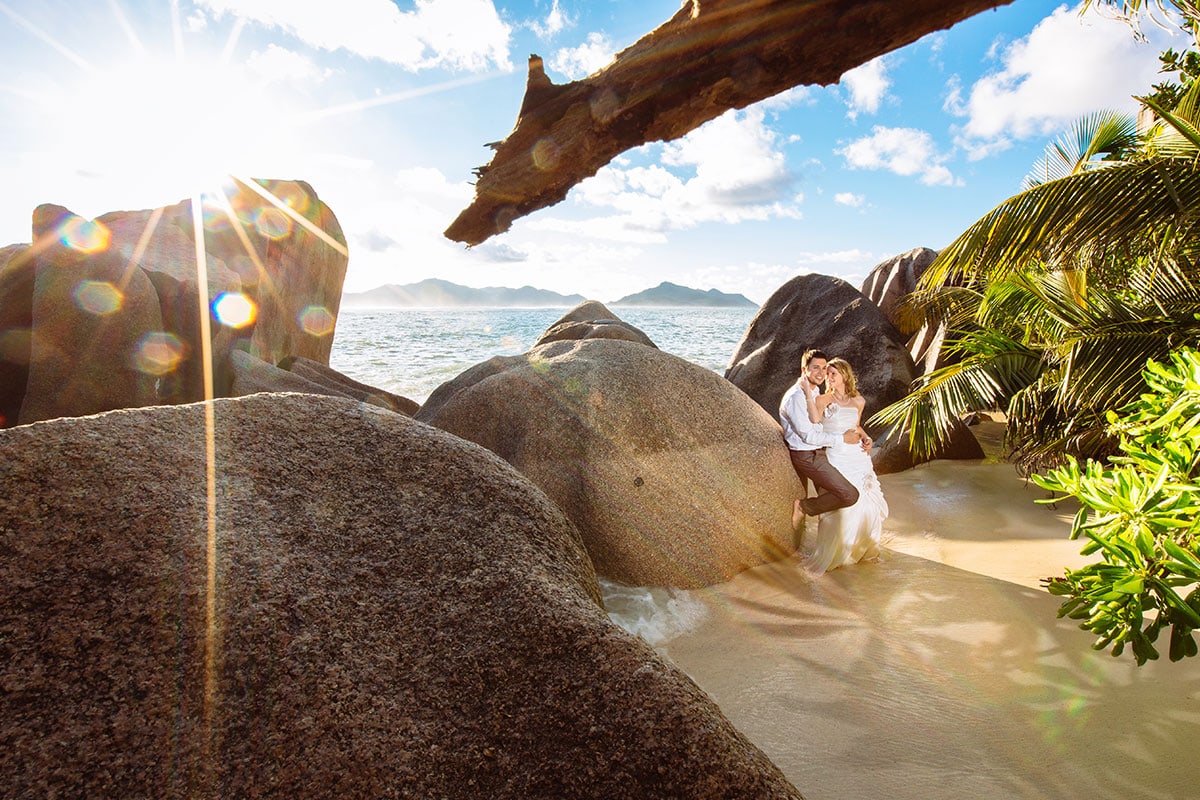 4. how long does a photo shoot in the seychelles take?
if you want to get as many pictures as possible without rushing, we can take great pictures on two or even three consecutive days at different times of the day. don't worry, we don't take pictures from morning till evening! no, we take pictures at different spots at specific times to use the best possible light. this way you will get those very special (wedding) pictures that will be the envy of everyone after your return. pictures that will show you the most beautiful journey of your life again and again in many years to come! just contact me and i will be happy to send you further details.
5. in what form do we get our wedding pictures?
You will receive all image files in high resolution and optimally edited in the common .jpg format either for download or alternatively on a USB stick.
most couples then decide on a "best-of-slide show" with music and of course on a hand-bound wedding book, individually designed for you and tailored to your personal wishes. these albums put everything you have ever seen in wedding albums in the shade. if you are interested, we would be happy to send you one of our hand-bound albums for viewing without any obligation. you can find some initial information about our mega-noble wedding books on my wife's website, but since the website is currently being completely renewed (as of January 2020), we unfortunately have to ask you to be patient a little longer. the sample albums can be shipped at any time!
Wedding photos in the Seychelles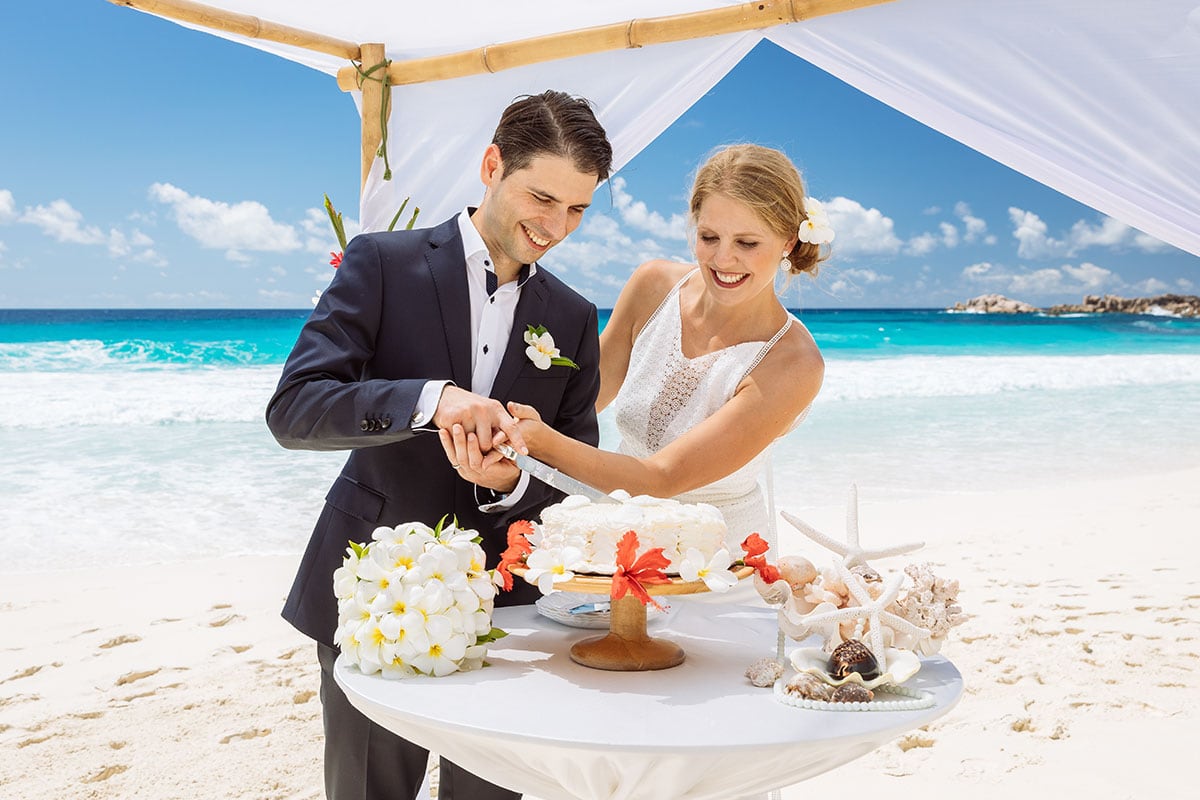 6. how do you organize such a wedding in the Seychelles?
first of all, you have the choice between "organize yourself" and "let me organize". "organize yourself" is of course a lot of work. "let me organize" is much more comfortable, but also carries the risk of making a long face on the day of the wedding, because you don't like the decoration or the wedding cake at all. the best is probably the combination of both:
The "duty" - i.e. the complete travel booking including flights, your accommodation in the Seychelles as well as all necessary domestic transfers - you leave to a tour operator that specialises in the Seychelles. I have had particularly good experience with "Lavigne Reisen", "Meerzeitreisen" and "Seyvillas". These tour operators will therefore take care of the "duty" for you.
The "freestyle" - i.e. all the fine details such as the exact location/beach of your wedding ceremony as well as the time you wish to have it, the colour of the decoration, the look and taste of the wedding cake (my insider tip: passionfruit!) etc. - you then clarify directly with the best wedding organiser in the Seychelles, who will arrange the location of your wedding ceremony according to your taste. I will be happy to put you in direct contact with him after you have booked me as a photographer for your wedding in the Seychelles.
this mega-recommendable wedding planner will take care of everything concerning your wedding in the Seychelles! you send him/her the few necessary papers in advance by e-mail or WhatsApp - photocopies of your passports, a copy of your birth certificates (an "international version" is required, as German is not one of the official languages of the Seychelles) and the so-called "certificate of no impediment to marriage", if one of you has already been married - and that's it! you tell the wedding planner when exactly you want to get married on which beach (of course I will be happy to advise you in detail in advance and send you photos of the available beaches, if you book me as your photographer) and clarify the rest (which bouquet? which decoration? wedding ceremony in sitting or standing position? which cake? champagne, champagne or coconut cocktail? background music for the ceremony? ...)
i would be very happy to come to your preliminary talk with the wedding organizer in the evening and help you with advice and support. and if you have a much better gut feeling, if this talk with the organizer takes place 5 or 10 days before your wedding, then this is of course also possible. you just have to make sure that you are on the island where you are going to get married so early. but as i said: it is perfectly sufficient if this talk takes place about two days before your wedding. trust me! 🙂
If you wish to organise your wedding entirely by yourself through the Seychelles Registrar's Office (although I can't think of a single good reason why anyone would want to do so): The Registrar's Office on the main island of Mahé is open Monday to Friday from 8:00 to 11:30 and from 13:00 to 15:00 (as of January 2020). The Registrar should be informed of the time of your intended stay in the Seychelles, the date of your wedding (please indicate alternatives) and the name of the hotel where you will be staying at the time of the wedding. If the wedding is to take place at Mahé's Registrar's Office - which is extremely "unsexy" - the couple must present their documents in person upon arrival in the Seychelles. The couple must arrive at least two days before the planned date of the wedding (this only applies if you wish to organise everything yourself; Organ