Torsten Dickmann - Wedding photographer seychelles
torsten dickmann - the "photo man"!
wedding photographer seychelles
Die Fotografie und das Reisen: Seit über 25 Jahren begleiten mich diese beiden unstillbaren Leidenschaften nun bereits und ich bin überaus glücklich darüber, dass ich diese beiden Leidenschaften im Jahr 2005 zu meinem Beruf gemacht habe! Mittlerweile bin ich weit über die Grenzen meiner Heimat als "Photographer." bekannt. Selbst auf den Seychellen werde ich von vielen Einheimischen "Fotomann" genannt… 🙂
Werde ich nach meinen liebsten Reisezielen befragt, so sprudeln zum größten Teil die Namen von sonnenverwöhnten Inselparadiesen aus mir heraus: Französisch-Polynesien, Cook Islands, die Malediven und natürlich die so innig geliebten Seychelles – dies sind meine ganz persönlichen Paradiese, in welche ich immer und immer wieder gerne reise!
Ende der Achtziger Jahre wurde ich erstmals auf den 1935 geborenen, deutschen Fotografen Michael Friedel aufmerksam, der es mit seinen Fotografien der schönsten Strände der Welt zu Weltruhm brachte. Seine Fotografien weckten das Reisefieber in mir. So wunderschöne Ziele wollte ich selbst erkunden und ebenso schöne Fotografien mit nach Hause bringen. Bereits während der ersten Reise stellte ich fest, dass ich mit meiner einfachen "Knipskiste" und dem seinerzeit noch sehr beschränkten fotografischen Wissen keinesfalls die Bilder mitbringen konnte, die ich mir wünschte und begann, intensiv in das unendliche und wahnsinnig faszinierende Thema Photography einzutauchen.
Einige Jahre und mehrere hunderttausend Auslösungen später war es dann soweit, dass meine eigenen Fotografien der schönsten Strände der Welt in Ausstellungen zu sehen waren und seitdem europaweit vertrieben werden. Im Jahr 2005 fotografierte ich dann die Hochzeit von guten Freunden auf Mallorca – und seit diesem Tag bin ich nicht nur insel-, sondern auch völlig "hochzeitsversessen"! Ich hatte meine große Leidenschaft entdeckt!

Kurze Zeit später habe ich dann mein größtes Hobby zum Beruf gemacht und bis heute mehr als 450 Hochzeiten (Stand: September 2020) auf vier Kontinenten fotografiert. Ganz besonders häufig fotografiere ich Weddings in the Seychelles, denn meine unkonventionelle und lockere Bildsprache, bei welcher – ich zitiere eine ganz liebe Braut, deren Hochzeit ich auf La Digue, der wohl schönsten Insel der Seychellen, fotografieren durfte – "das Brautpaar und die Landschaft so perfekt miteinander verschmelzen und mit der Sonne um die Wette strahlen, dass jedes Bild sofort als 'echter Dickmann' zu erkennen ist" hat dafür gesorgt, dass ich mittlerweile viele Hochzeiten auf den Seychellen als Fotograf (und auf Wunsch auch als Dolmetscher, Reiseberater und "Inselführer") begleite. Mittlerweile fotografiere ich sogar deutlich mehr Weddings in the Seychelles als daheim in Deutschland. Etwa 4-5 Monate pro Jahr verbringe ich mittlerweile auf den Seychellen (hiervon etwa 90% der Zeit auf der traumhaften Insel La Digue) und bekomme einfach nicht genug von meinen Trauminseln!
Here you see me at work on my favourite island La Digue.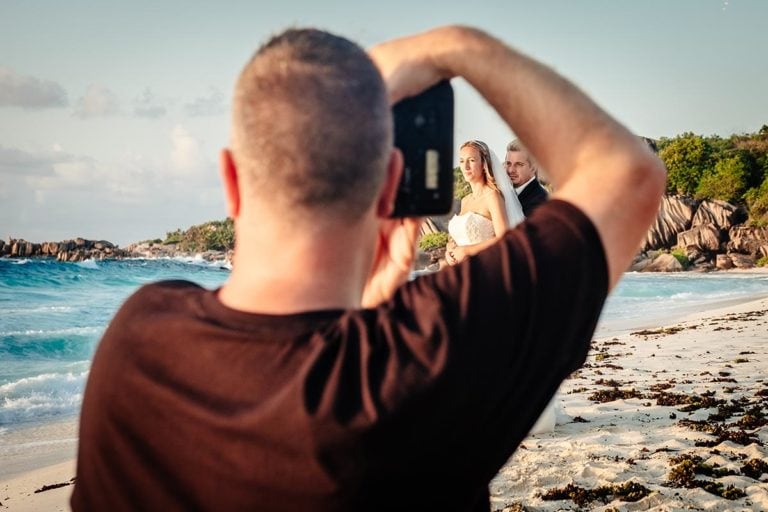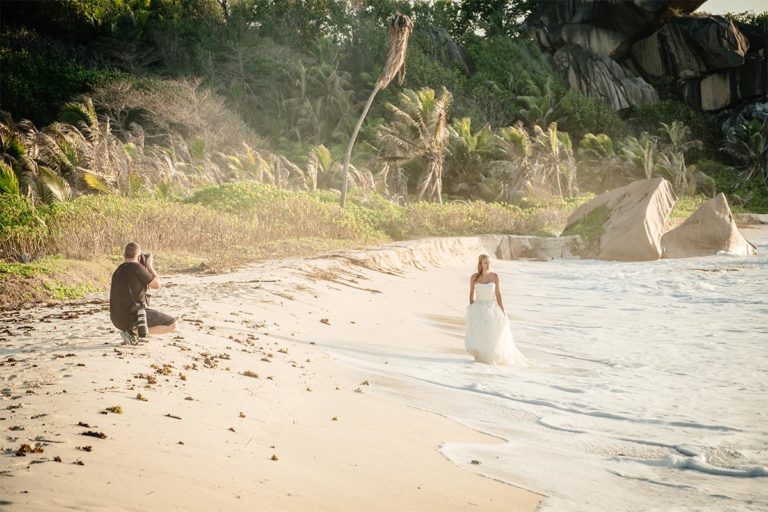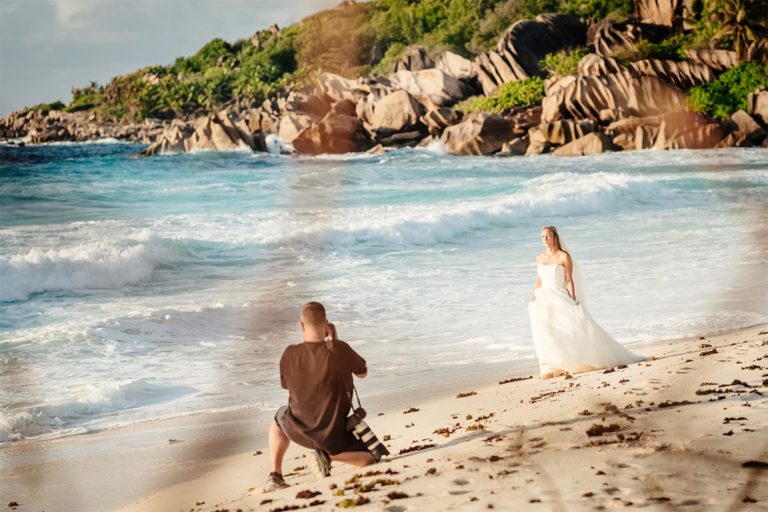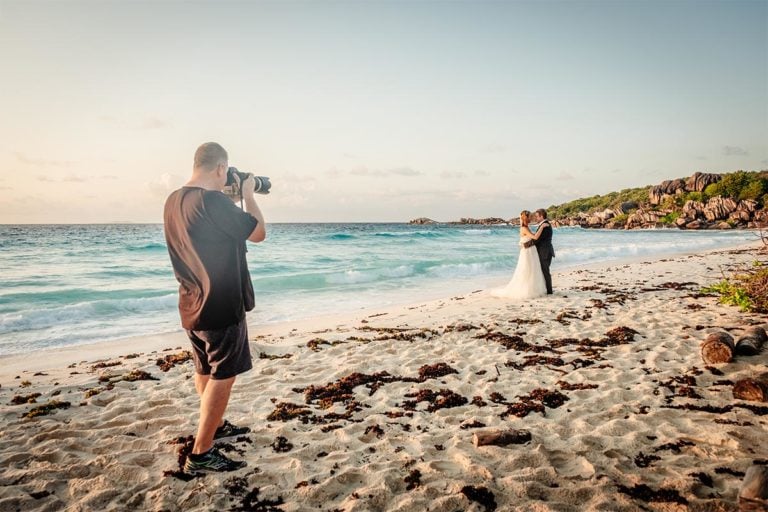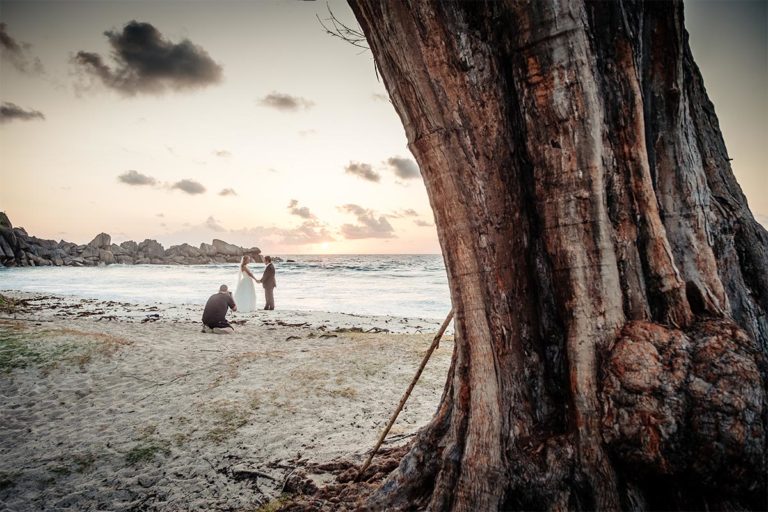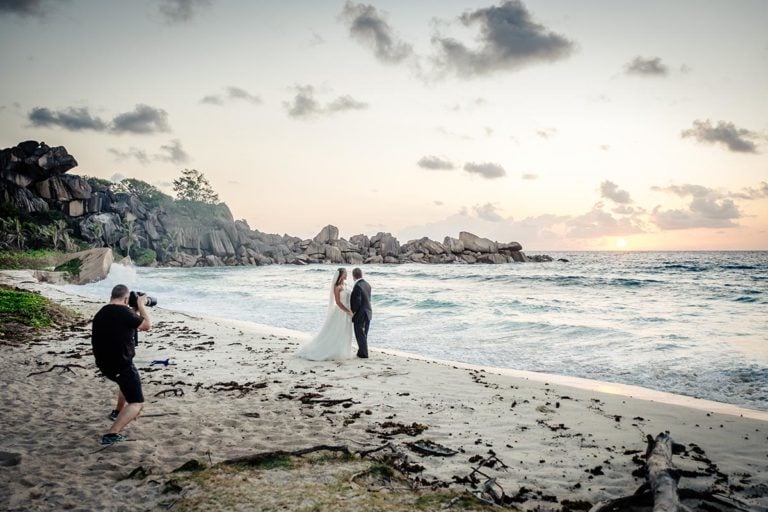 In this film, which was shot in February 2019,
you will learn more about my way of working
as a wedding photographer in the Seychelles!