Getting married in Seychelles - what a dream! There is no better place in the world for getting married at the beach! You too are planning your wedding in the Seychelles? Congratulations on this great decision!
The photographer from television
(for example "WDR Wunderschön")
More videos and press reports:
Of course everything shall be perfect for your dream wedding under palms: the beach, the wedding ceremony, the decoration - everything must be just right on the most beautiful day of your life!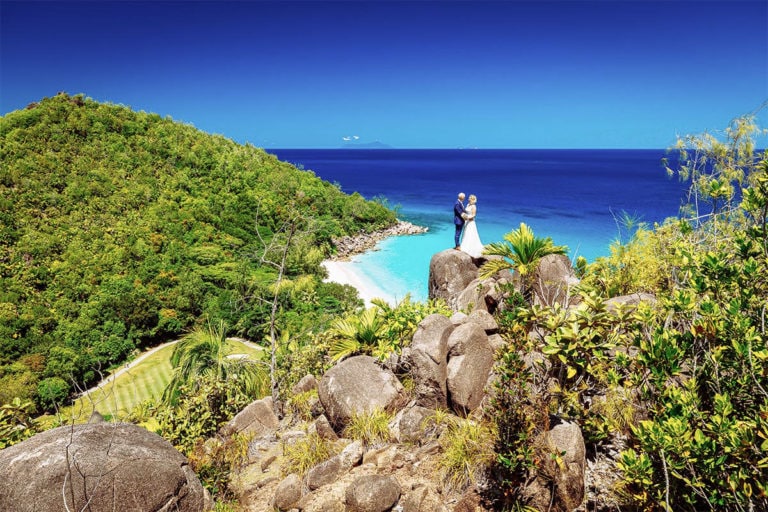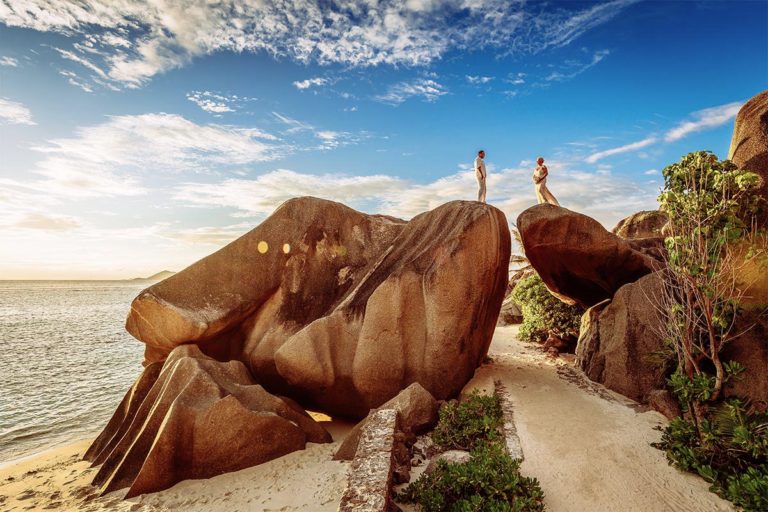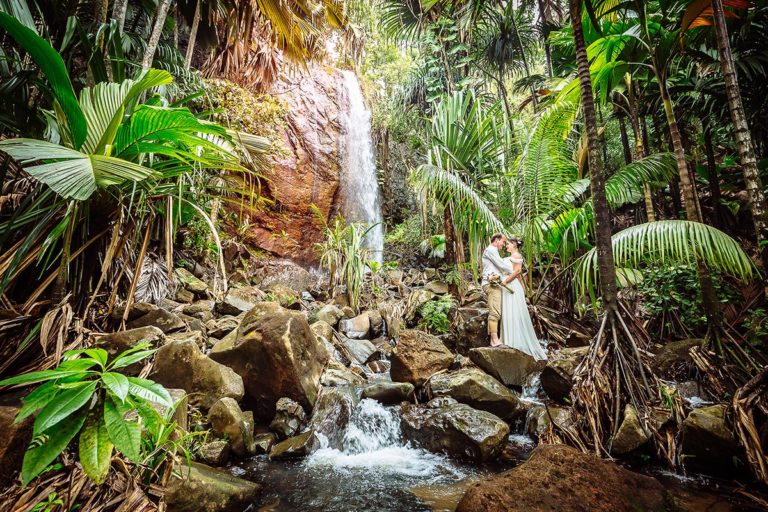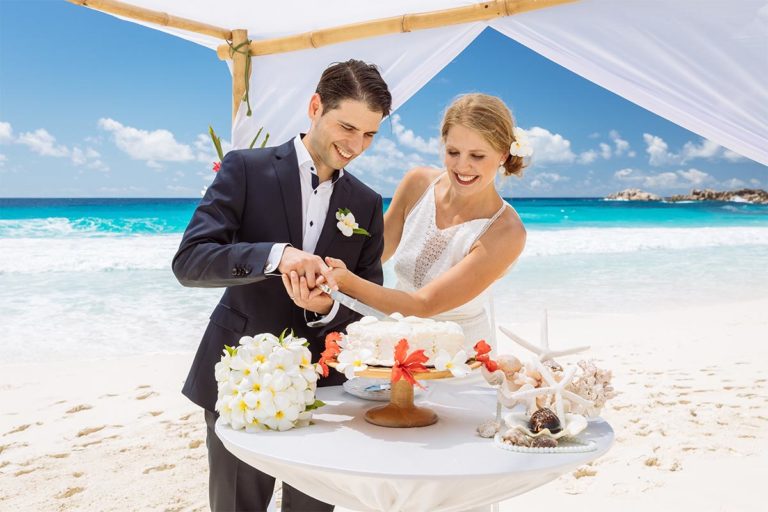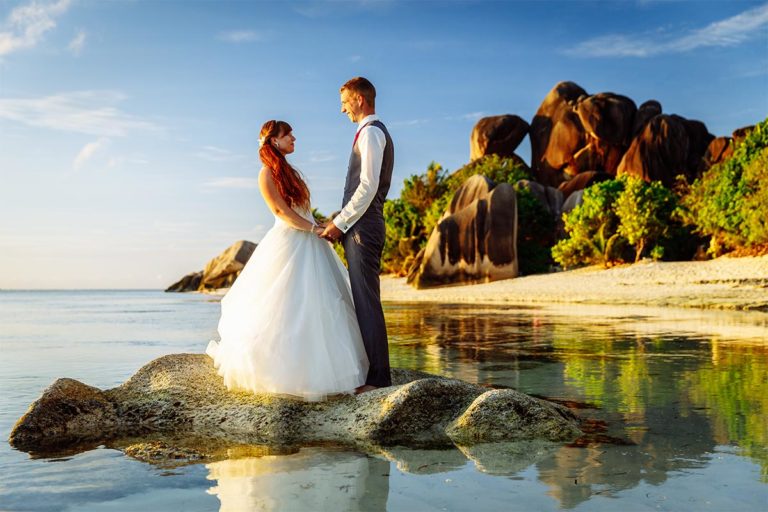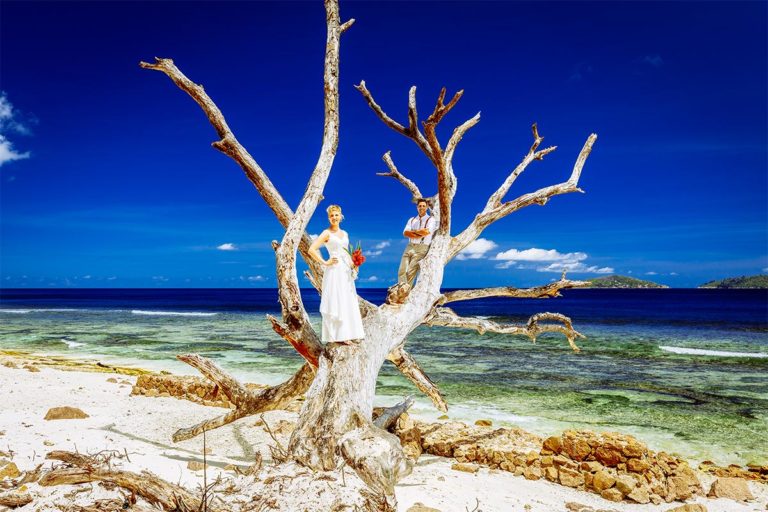 And of course someone has to capture this great day in timelessly beautiful wedding pictures, someone who has lots of experience being a wedding photographer in Seychelles im Einsatz war. Der die Inseln kennt wie kaum ein Zweiter. Der Eure Muttersprache spricht, sehr gerne im Bedarfsfall auch als Dolmetscher agiert  und Euch bereits lange vor Eurer großen Reise die schönsten Orte für Eure Trauung empfiehlt. Und der Euch auf Wunsch direkt an den besten Hochzeitsorganisator vor Ort vermittelt, mit dem Ihr dann bereits lange vor Eurer Hochzeit direkt und ohne Umwege per Mail oder WhatsApp abstimmen könnt, wann genau Ihr wo heiraten möchtet und wie Eure perfekte Strandhochzeit aussehen soll. So wird Eure Eheschließung auf den Seychellen garantiert Eure ganz persönliche Traumhochzeit!
Und da ich mit Euch im Idealfall an zwei bis drei aufeinander folgenden Tagen fotografiere, bekommt Ihr anschließend unendlich viele schöne Bilder, um den Daheimgebliebenen zeigen zu können, wie wundervoll Eure Wedding in the Seychelles war! Bilder, auf denen Ihr Euch unheimlich gut gefallen werdet – denn ich zeige Euch auf den Bildern exakt so, wie Ihr seid!
Mittlerweile bin ich rund 4-5 Monate pro Jahr als wedding photographer in Seychelles im Einsatz, um für anspruchsvolle Brautpaare die "schönste Reise des Lebens" in zeitlos schönen Fotografien festzuhalten. Nach mittlerweile 34 Reisen auf die Trauminseln habe ich jede Menge Erfahrungen zum Thema "Heiraten auf den Seychellen" sammeln können. Mittlerweile habe ich dort über 150 Paare mit meinen Kameras begleitet und kenne nahezu jeden Quadratmeter auf den vier Hauptinseln Mahé, Silhouette, Praslin und La Digue sowie auf der High-End-Luxusinsel Frégate Island Private. Ganz besonders gerne fotografiere ich Weddings at La Diguebecause the beaches of this island are peppered with granite rocks of such a bizarre shape that I can only thank nature for this miracle again and again.
Die Strände von La Digue, Mahe, Praslin, Frégate Island Private und teilweise auch von Silhouette bieten die perfekte Kulisse für tolle Hochzeitsbilder von den Seychellen! Die meisten Paare, die dort am Strand heiraten, hängen dann direkt noch ein paar Tage oder gar Wochen Urlaub dran und verbringen ihre Honeymoon in the Seychelles. Ich begleite "meine" Paare in der Regel auch noch am Tag nach der Trauungszeremonie sowie oft auch am übernächsten Tag, um möglichst viele tolle Hochzeitsbilder an unterschiedlichen Orten entstehen zu lassen.
You can find more information here:
The Seychelles offer photogenic beaches virtually like "sand at the sea". I will take you to the dream beaches of Seychelles - to the best photo opportunities. Discover paradise with me!